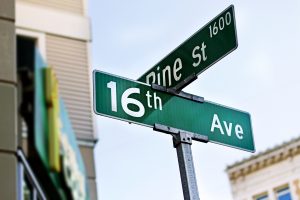 Jewish Family Service was presented with a rare opportunity when a property adjacent to the agency's 1610 16th Avenue parking lot came on the market in 2016. With guidance from a volunteer advisory group of real estate experts, the JFS Board of Directors made a decision to bid on the small apartment building at 1620 16th Avenue. The seller accepted the agency's $1.7 million offer, which was below others made at that time, and the purchase closed in August 2016.
"As stewards of JFS resources, for both current and future clients, the Board was united in its desire to maximize the potential for additional revenue to support our services and programs," said Michele Rosen, President of the Board of Directors.
It is expected that by combining the two adjacent parcels, the value of the whole will be increased. With that in mind, JFS is now working with the architectural firm Weinstein A+U to go through Seattle's master use permitting process in anticipation of selling the property to a developer.
The permitting design is for a mixed-use commercial and residential building that would include underground parking. JFS intends to complete the land use application prior to sale of the property and does not foresee developing the property itself.
"It's extraordinary for a nonprofit to be presented with this kind of opportunity and to have the structure and stability to make the investment," Rosen said. "This community's 125 years of generosity and leadership positioned us to make a decision that we expect will enhance our ability to meet the community's future needs."
Development is not estimated to begin before 2020. During the period until development begins, JFS is working with a property management company to handle customary business, such as rent collection and maintenance. Over the coming months, the agency will hold meetings with tenants and neighbors to share more details about the anticipated process and timeline.
JFS previously worked with Weinstein A+U in developing its current Capitol Hill campus. The project included renovation of the Jesse Danz Building and the addition of a new structure and attached parking garage.
By Deb Frockt
Deb Frockt is Director of Marketing & Communications. She enjoys baking, beaching and learning about golf, both kinds of football, fashion and pop music from her husband and sons.