Learn more about the Family Tree Legacy Circle.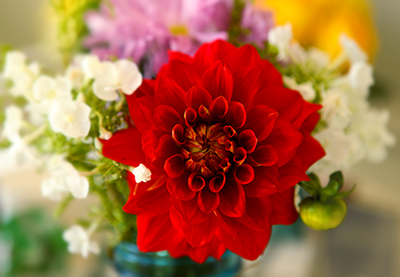 Sam and Barbara Altabet, of blessed memory, were dedicated to Seattle's greater Jewish community. Sam and Barbara planned for the bulk of their estate to be dedicated to making major gifts to five charities, including Jewish Family Service, that represented their most cherished values.
The Altabets were both Northwest natives. Sam was born in Seattle. Barbara (nee Shaw) was born in Portland, but her family moved to Seattle during her childhood. Sam served in the Navy during World War II and earned a Purple Heart for his harrowing service during the Normandy invasion. When he returned to Seattle and with the help of his brother Al, Sam started a Capitol Hill business that eventually became Broadway Central Florists.
Sam and Barbara exchanged vows in 1959 — a modest and shy floral artist with his outgoing bride, who would become their local Toast Mistress chapter president. The couple was married for 43 years, until Sam's passing in 2003. Barbara then moved to Kline Galland and lived until 2016.

The Sam and Barbara Altabet Giving Fund is a bequest managed by three trustees. Gifts from the Fund are anticipated to be made annually over a period of five years. In accordance with what the trustees perceive to have been the Altabet's own wishes, JFS is a major and continuing beneficiary of Sam and Barbara's generosity. This year, the Fund supports two critical JFS programs — Project DVORA Domestic Violence Services and Emergency Services, with an emphasis on housing assistance.
Learn more about how you can write your legacy.
Please contact Lisa Schultz Golden at lgolden@jfsseattle.org or (206) 861-3188.