Dear Friends,
Our son Nativ turned 18 the other day.
He was nine months old when we moved back to Seattle after I graduated from Rabbinic school. Nine years old when I started at JFS.
I have a distinct memory of teaching him how to ride a bike. I was running beside him down our street when he finally found his balance – wobbling gave way to stability. Gradually, I opened my hand and let go. In that moment, I knew his world was about to expand and soon I wouldn't be able to keep up. I wouldn't be able to shelter him forever.

I want to share another story about a different high school student not far from Seattle. The child of one of our Afghan families, who we resettled, was physically assaulted and called a terrorist in his school this week. The attack was posted on social media for all to see—as well as all the cyber bullying that preceded it.
Parenting is like having your heart and soul running around outside your body. When Nativ was a toddler, I remember watching him in fear stumble and fall on gravel. Picking him up knees bloodied, dusting him off. Or warning him not to touch the hot stove and him doing it anyway. The small joys and the little terrors.
This Afghan boy has been in the United States for about three months. His father worked with coalition forces. The attack and bullying that happened is no way to welcome our allies and their families—people who were forced to flee because of their service to our country.
Why would one boy seek out and attack his classmate? Maybe he was provoked. Provoked, but not by the victim. He was provoked by all the subtle (and not so subtle) messages that led up to this assault. The normalization of violent rhetoric. The political tribalism that passes for morality. The constant casual cruelness.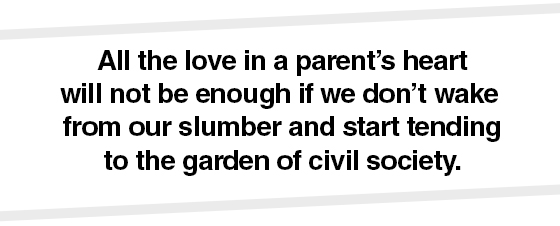 We wave flags to signal our values. And we indoctrinate rather than debate. While it may not be new in the sweep of history, it does not make it any less tragic. And it is new for this boy and for every child when they first encounter senseless aggression and toxicity directed at them. It is no wonder we are witnessing both a youth mental health crisis and an addiction crisis.
When I think of parenting, I reflect on the Garden of Eden – the innocent place. The goal is not to keep our kids too safe, protected, and innocent. We cannot keep them in the Garden forever, nor should we. Rather, we must be there for them as they inevitably lose their innocence and are forced out into a challenging and often cruel world.
I wonder how long this boy was able to live in the Garden? His expulsion began long ago.
I shared the incident with Nativ. He looked at me as though I were naïve and said, "It is disgusting, but it is not surprising." It is not surprising because we have allowed ourselves to not be surprised, so we don't register the impact of the disgust.
We are appalled for a moment and then we turn the page. As many of us live out our American dreams, we need to realize that for far too many the American dream has become a waking nightmare. These are many of the people we see at JFS.
When I think of this other boy—about my son's age—and all the horror he has already endured, it stops me cold. My mind defaults to sadness for all the ways he has been failed. All the love in a parent's heart will not be enough if we don't wake from our slumber and start tending to the garden of civil society.
This summer, we were on the East Coast doing the pilgrimage tour of colleges for Nativ. On our last day, I dragged him out of bed at 4:30 a.m. to drive to the coast near Gloucester, Massachusetts, to see the sunrise over the Atlantic. It felt somehow symbolic as the sun rises on his new life and his expanding independence. His decisions are his–as are his successes and failures. Our job as parents is to let go. It is to give him his freedom to discover.
But what about this other boy? Will he also be given the freedom to discover, free from violence and hateful rhetoric? Will his sunrise be a rustic orange or a smoke-filled grey? That is as much up to us as it is up to him.
In peace,

Rabbi Will Berkovitz
Chief Executive Officer