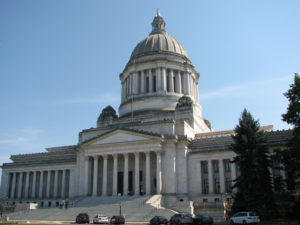 The 2019 Washington State Legislative Session ended in April. We are happy to report that all of our top legislative priorities passed, giving families and individuals some additional help in achieving well-being, health and stability.
Protecting Tenants from Eviction – Senate Bill 5600
Eviction is the leading cause of homelessness in King County. Senate Bill 5600 protects tenants from eviction by giving them more time to pay rent before being evicted, as well as more advanced notice of a rent increase. This new law also gives courts discretion to delay eviction for tenants who may be unable to pay rent because of special circumstances, such as a medical emergency. Thank you to Sen. Patty Kuderer for sponsoring this bill and Rep. Nicole Macri for sponsoring the House version of the legislation.
Strengthening the Safety Net for Families – House Bill 1603
This new law, championed by Rep. Tana Senn and Sen. Joe Nguyen, allows families with low-incomes more time to meet certain eligibility requirements for WorkFirst / Temporary Assistance for Needy Families (TANF) benefits. These benefits can help with a job search, pay for child care, and provide job training. Homelessness, medical crisis, or domestic violence can often make it difficult for families to meet eligibility requirements for these benefits. This bill will give them extra time to qualify.
Helping More Immigrants Become Citizens – State Budget
Legislators increased funding for naturalization services by $1 million per year to help an estimated 1,600 additional immigrants become U.S. citizens. Becoming a citizen has significant social, economic, and civic impacts, including access to federal assistance programs.
Thank You!
Thank you to all legislators who supported these legislative priorities. Special thanks to Max Patashnik and Cassie Garvin from the Jewish Federation of Greater Seattle for their wise counsel. Finally, thank you to everyone who participated in JFS Advocacy Day or wrote or called legislators in support of the agenda. Together, you helped make a difference in the lives of individuals and families in Washington. Thank You!
Photo is courtesy of MathTeacherGuy and is licensed under CC BY-NC 2.0.