Everyday acts of kindness, or mitzvahs, have the power to change lives. Recently, residents at The Mary Schwartz Summit (formerly The Summit at First Hill) put their values into action and held a bingo tournament to raise money for JFS. Residents also donated a handmade blanket and 25 teddy bears to our Refugee & Immigrant Services (RIS) program to help Afghan refugees settle into their new lives here in the Puget Sound. We spoke with Debbie Cahn, resident and Summit newsletter writer, about this creative act of generosity and what we all can do to help others get through tough times. 
Please tell us about The Mary Schwartz Summit and its mission.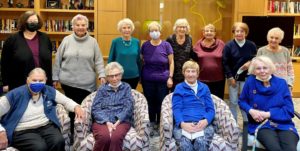 The Mary Schwartz Summit (formerly The Summit at First Hill) is Washington state's Jewish senior living community, providing independent living, assisted living, and memory support services to about 120 people. We are part of the Kline Galland organization which has been an important pillar of Seattle's Jewish community since the Caroline Kline Galland Home opened in 1914. 
How did you learn about the work JFS has been doing for Afghan refugees? 
I learned about Jewish Family Service's work with Afghan refugees from a JFS email I received in August 2021. I've been on your mailing list since I was a single parent in Bellevue in the 1980s. 
What moved the Summit to donate to the Refugee & Immigrant (RIS) department at JFS?  
The residents at The Summit and the staff of our Life Enrichment department have raised money for JFS and other worthy causes before; most recently the Polack Food Bank at JFS and Seattle's Holocaust Center for Humanity (in 2021, we had a bingo night honoring Ruth Bader Ginsburg complete with judge costumes). When I found out that Afghan refugees were coming to the Seattle area, I knew we had to do something. Many of our residents are Holocaust survivors or Sephardic Jews who were once refugees themselves.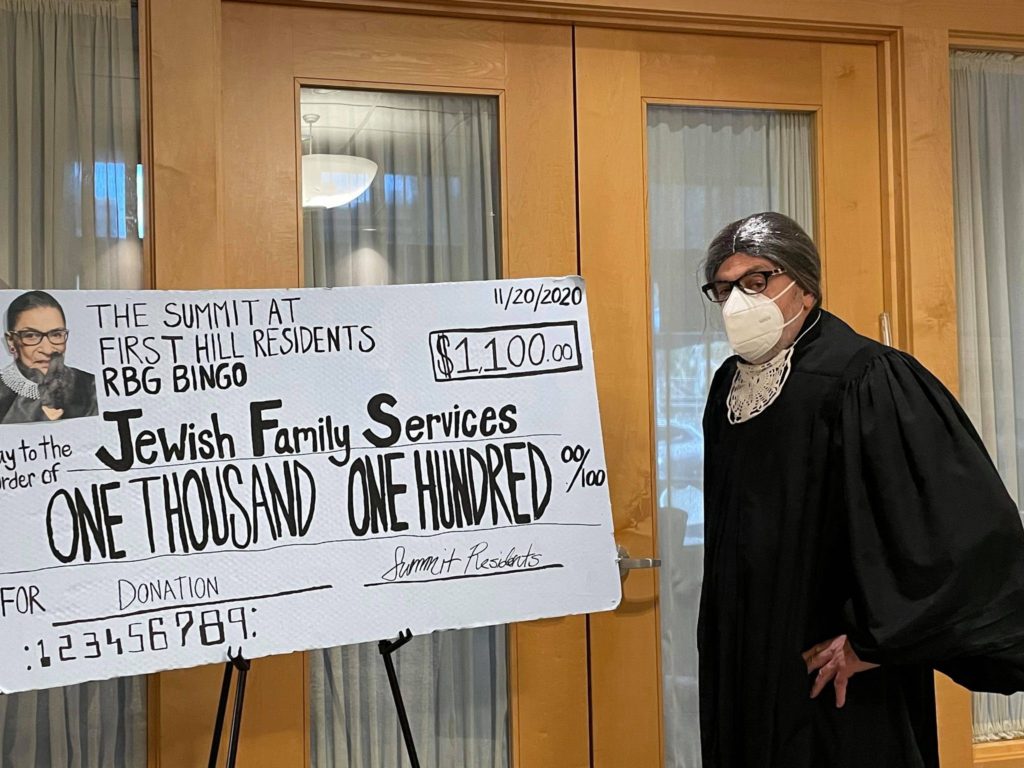 Donating the proceeds from a bingo tournament as well as handmade blankets and teddy bears are such creative ways to give. What do you have to say to others who are looking to explore out of the box mitzvah ideas? 
In my experience, the best way to come up with great ideas is to brainstorm with a small group of like-minded friends. The internet is a good way to learn about what's going on in the world and where opportunities lie. I think the pandemic has focused our attention on the blessings we have and how we can help others to get through terrible times. 
In your own words, what does "welcoming the stranger" mean to you?  
We have all been strangers at some point in our lives and we all know firsthand how wonderful it is to feel both welcomed and helped with material needs. We seniors frequently have the time and energy to help out in situations where people who are still working and raising families cannot.  
We want to thank The Mary Schwartz Summit residents for their donation to JFS as well as Debbie Cahn for being willing to speak with us. If you are interested in learning more about our efforts to welcome and resettle Afghan refugees, please visit our Press & Publications section. If you would like to volunteer, please visit our Volunteer Services page. Also, donations are always welcome! You can make a gift of any amount here. Thank you!