By Shaida Hossein, Behavioral Health Education & Training Manager, and Lena Neufeld, PSY.D., Teen & Young Adult Therapist. 
In a recent blog post, JFS counselors Lena Neufeld and Liz Coleclough explored how we can all create and refine our sense of purpose during the challenges of quarantine—turning to renowned psychiatrist, neurologist, and holocaust survivor Viktor Frankl for direction. In his work, Frankl identified four main goals to strive towards to derive meaning in life:
Authentically interact with others.
Engage in creativity and self-expression.
Commune in nature.
Recognize we have choice in how we perceive our circumstances and find empowerment within this choice.
Today, we will explore how to engage with these four goals through the lens of digital wellness.
Whether we like it or not, this pandemic has forced all of us to rely on and utilize technology in ways we never imagined. Suddenly, our phones, tablets and computers have become our sole vehicles for social connection; our means to education and employment; our doorway to museums and libraries and our windows for bearing witness to the world beyond our homes.
This "digital dependency" is cause for us to experience both hesitation and curiosity. Each of us has a unique attachment to our devices, and this is usually linked to our ages and generation. For many parents, navigating their child's use of technology was already a fraught battleground pre-COVID. Weren't we already trying to get our children off their phones and into the world? However, our ability as parents to strive for open-mindedness and emotional and intellectual flexibility, is more important than ever before. If our devices are now the primary doorways to the world beyond our pandemic pods, we must let our children continue on their developmental pathways—to explore, experiment and individuate—in ways that embrace technology. The days of rationing "screen time" as a behavioral intervention for kids and teenagers have passed. In its place is the burgeoning concept of "digital wellness".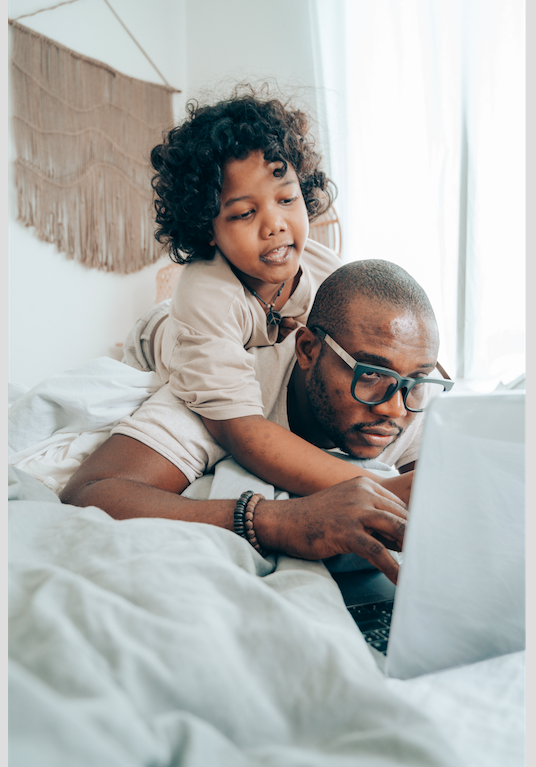 How do we balance the use of technology while still striving for wellness? How do we use our technology in ways that support our mental and emotional health? And in time, is it possible to find true enrichment through our digital experiences and even come to view them as opportunities?
In the past, we may have viewed screen time through a dichotomous lens—something to be doled out in small doses—but what if we moved away from this perspective and instead opened ourselves up to the value of digital tools when approached with intention, curiosity and mindfulness?
When embarking on new experiences and opportunities as a family, it's important to remember that each person's voice, perspective and experience should be heard and valued. Of course, change is hard and takes time. A quote we love says, "Change is hard at first, messy in the middle, and gorgeous at the end." Therefore, when all family members participate in open-ended conversations, sustainable and meaningful change is possible.
As we all pivot towards striving for digital wellness, it's important to engage in conversations around what wellness means to you, what is currently working to improve your wellness, and what things could change or be enhanced by integrating digital options.
Below is a resource guide that groups technology through the framework of Frankl's goals for finding meaning in the face of adversity. As with all wellness pursuits, there is no "one size fits all" approach.  Digital wellness will look different for each person, for each parent and for each child. Try out different styles, play around with new tools and see what feels right to you. Enjoy!
Digital Wellness Resource Guide
Authentically interact with others
Play charades via Google Hangouts, Zoom, Skype
Host an online scavenger hunt via Zoom, Skype, Google Hangout. Give everyone a fun list of items to find in their house and "show off" what they find when time is up
Play Pictionary via Zoom using the screenshot feature
Make crafts "together" via Zoom, Facetime Group, or Google Hangouts
Use Postsnap to create a postcard out of a photo and send it to loved ones
Play virtual board games
Host a Netflix Watch Party
Use the #selfcare app for a little joy and self-connection
Engage in creativity and self-expression
Commune in nature
Recognize we have choice in how we perceive our circumstances, and find empowerment within this choice (steps towards self-improvement so we don't remain stuck)
If you need mental health support right now, please contact cas@jfsseattle.org or (206)-861-3152. JFS is here to help, and we offer our services on a sliding scale. We also accept insurance. You can also visit our Counseling & Addiction Services webpage here for more information, as well as our Project DVORA (domestic violence services) page here.