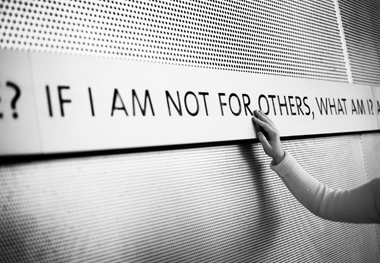 The Family Matters Campaign was planned, in part, to support construction of our current facility. After Family Matters kicked off in 2006, and with the support of our donors, JFS weathered the Great Recession of 2008 and expanded its services to meet the growing needs of our community.
Now, we are so pleased to announce that JFS has retired the mortgage on the 2012 Capitol Hill Campus expansion. It took JFS 120 years to have a facility designed and built to meet the needs of our clients with the dignity and respect they deserve.
In our state-of-the-art home, the Polack Food Bank serves more than 3,000 people each year. We can offer fresh produce, lean proteins and other perishables because of our ample walk-in spaces.
Our light-filled meeting spaces allow us to provide clients a variety of options for evidenced-based, skills-building workshops that also help reduce isolation by bringing vulnerable people into community. There are options for domestic violence survivors and their children, for families managing mental illness, and for those caring for an aging loved one.
When clients meet with a mental health counselor or a domestic violence advocate, they do so in private, warm, welcoming offices that foster a sense of safety and security.
The Family Matters Campaign made it possible for JFS to imagine and implement new ways of serving people in their most vulnerable moments. The Campaign ignited more endowment gifts, helping us secure our future. In a tumultuous time, with skyrocketing costs, Family Matters gave us a place where we can always feel safe.
None of this would have been possible without the visionary leadership of our Campaign Co-Chairs – Howard Behar, Jeannie Butler and Judy Neuman. Words cannot express our appreciation for all they have made possible.
The work JFS does today is built upon the work that was done by those who came before us. We are so grateful to former CEO Ken Weinberg for his leadership, along with the Board members and many, many volunteers and staff who tirelessly served on the fundraising, facilities and finance committees that made our community's dream a reality.
Paying off our mortgage is a marker of stability and a milestone not many nonprofits can celebrate. From the bottom or our hearts and on behalf of those we serve, we are so grateful for what our community has made possible.
By Michele Rosen (President) and Rabbi Will Berkovitz (CEO)