It's time to prepare for a Super Food Drive and a Super Baggie Challenge to go with it.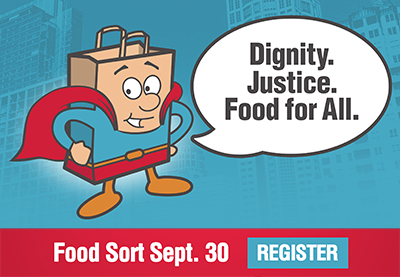 As the 2018 Community-Wide Food Drive officially begins with announcements from congregations at Rosh Hashanah, JFS is asking partners to participate in a Super Baggie Challenge to raise 10 percent more in donations than last year. Partnering organizations will receive a letter with their amount from last year and their 2018 goal.
More than 30 organizations support food security in our community every year with donations to the Polack Food Bank. One of those organizations is Temple Beth Am with its youth led efforts. The Beth Am Temple Youth (BATY) hand out and collect the JFS bags for donations. Talia Glick is the BATY Social Action Vice President this year and assisted with TBA's efforts last year.
"The Food Drive gives people in the Beth Am community a chance to get involved," she said. "Not everyone has a chance to volunteer and be active throughout the community, so we bring it to them. We provide the donation bags, and all they have to do is come to services like they would anyway. It gives people an opportunity to help out and make a difference in a way that is accessible to them."
The Food Drive helps bring congregational communities like the Beth Am together around one cause, according to David Lizzo, Director of Youth Engagement.
But, the positives don't end with just bringing together congregations. "There are a lot of benefits for everyone with the Food Drive," David said. "We want to be an active presence helping in the community. Partnering with JFS and having such an impact with the Food Drive brings us together to help the larger community."
Talia echoed the same sense of community rallying around shared values.
"Within the Jewish community, we are not just doing community service because it's the right thing to do. We are doing it, as Jews, because it upholds our beliefs," Talia said. "The Food Drive is representative of all of those types of intersections."
It is those intersections and partnerships, across the community, that make a Super Food Drive.
Encourage people to help your congregation meet the Super Baggie Challenge by letting them know that two bags of donations can mean an additional 10 meals for a family.
Thank you to our 2017 partnering organization.
Contact volunteer@jfsseattle.org to become a 2018 partner.
Bet Alef Meditative Synagogue

Congregation Bet Chaverim

Congregation Beth Shalom

Congregation Eitz Or

Congregation Ezra Bessaroth

Congregation Kol Ami

Congregation Tikvah Chadashah

Emanuel Congregation

Herzl-Ner Tamid Conservative Congregation

Hillel International – Seattle WorksProgress Location

Hillel UW

The Jewish Day School of Metropolitan Seattle

Jewish Federation of Greater Seattle

Kadima Reconstructionist Community

The Kavana Cooperative

Kol HaNeshamah

Minyan Ohr Chadash

Seattle Hebrew Academy

Secular Jewish Circle of Puget Sound

SEED Early Childhood School at Temple Beth Am

Stroum Jewish Community Center- Mercer Island

Temple Beth Am

Temple B'nai Torah

Temple De Hirsch Sinai