By Shanti Krigel, LMHC, CDP, R-DMT, Mental Health Counselor & Addictions Specialist
In a recent blog post, my colleagues and JFS counselors Lena Neufeld and Liz Coleclough explored how we can all create and refine our sense of purpose during the challenges of quarantine—turning to renowned psychiatrist and philosopher Viktor Frankl for direction. In his work, Frankl identified four main goals to strive towards to derive meaning in life:
Authentically interact with others.
Engage in creativity and self-expression.
Commune in nature.
Recognize we have choice in how we perceive our circumstances, and find empowerment within this choice.
Today, let's explore the healing powers of engaging in creativity and self-expression:
My mom started learning how to play the guitar about a year ago, at the age of 74. She knew she did not want to play on her own—to her, music is about connecting with community and sparking her creativity. In that spirit, she joined a wonderful folk music group that would play at farmers markets and nursing homes.
As COVID-19 hit and stay-at-home orders were introduced, her group could no longer get together to play music. My mom initiated a daily Zoom music jam session with her group and opened it to others as well. She shared with me that this gathering has brought so much light to her during this dark time. April 23 was my mom's 75th birthday. I had not yet been to her group, so my two sisters and I decided to surprise her and join that morning.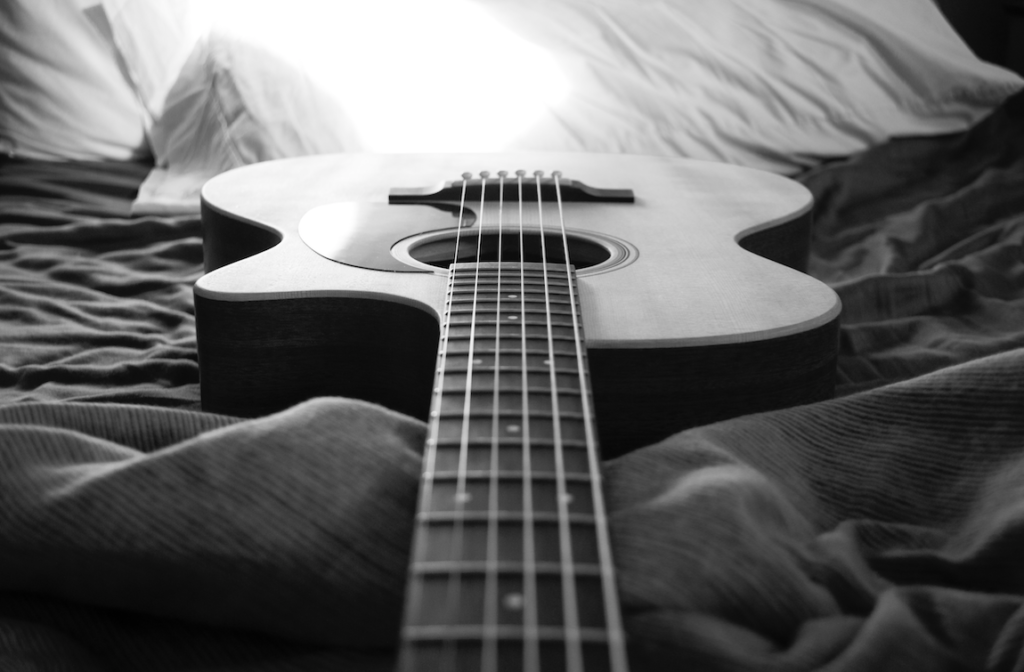 It was so wonderful to sing happy birthday to her with such a sweet and soulful group. We stayed on and sang along to many amazing songs. Song sheets with the words and music were shared so we could all participate together. When my husband and I were asked to share a song, we sang "Hinei Ma Tov" and appreciated how good and lovely it was to all be together.
As we sang together, I felt my entire body smile. I felt so present and joyful. My mom shared that although this time has been very challenging, being involved with the creativity and self-expression of her music group has brought her so much joy and healing. They continue to spread the love of this healing to all who join and have been "Zooming" into nursing homes as well.
In my own life, movement has been a source of great healing and inspiration. The healing powers of creative expression led me to become both a psychotherapist and a dance movement therapist. It has been one of my life's pure joys to support deep healing through embodiment and creative expression by utilizing the healing tool of dance movement therapy.
Creative expression has a unique and intelligent way of bringing us to the present moment. In the present moment, we are able to be more fully in our bodies. The healing power of this is profound. Trauma and distress can bring us out of our bodies. The "fight, flight, freeze, appease, and dissociate" response that happens as a result of trauma naturally take us into a disembodied state. The work of coming back into the body and back into this moment is an incredible antidote to trauma.
Creative expression is one powerful healing remedy. This challenging time of uncertainty and distress has a way of triggering our deep wounds. We are in this storm together, but we are not in the same boat. Each of us has a unique history and present situation. How we are affected by this storm is very different.
If we have a history of trauma in our lives—be it individual or historical trauma—we may find this present storm has stirred the winds of our old trauma and belief systems. This stirring can create a trauma response in our bodies and some old patterns of fight, flight, freeze, appease, or dissociate may arise. Please have compassion on these places. Try to listen deeply to what they are asking for. Pay attention to the pain and try not to change or fix it. Hold your pain with love and acceptance and then listen to what creative expression your body wants to engage in. 
Creativity and self-expression come in so many forms. And as the writer Elizabeth Gilbert put it, "Creativity itself doesn't care at all about results – the only thing it craves is the process. Learn to love the process and let whatever happens next happen…"
Each of us is drawn to different modalities. It may be singing, gardening, cooking or baking, playing an instrument, drawing or painting, dancing, building, ceramics, reading, writing, poetry or sharing deeply how we are doing with a loved one or therapist that brings us into the present moment and into our bodies. It is never too late to dust off the shelf and return to creative expressions you have loved in your life or find the courage to engage in new forms of creativity. We can see each new day as a blank canvas. We have an opportunity each day to engage in creativity and self-expression. May your muse guide you through this challenging time!
Three Creativity Ideas to Add to Your Tool Box!
Process art: Create art that is about free expression and not about the product or image. Consider following the steps below to bring more art into your life:

Take a few mindful breaths.
Pick some colors (oil pastels, paint or whatever you have on hand) and draw how you are feeling in this moment. Whatever image comes to you is good. Or none, just start and see what comes. This is intended to represent your feelings, not any particular image.
Optional: Journal about what came up for you as you drew, or share what came up for you in person or virtually with a loved one or therapist.
Move authentically: This form of movement is an expressive improvisational movement practice that allows an individual free association of the body. Consider the steps below to engage in a moving experience using authentic movement:

Take a few mindful breaths.
Wait for internal stimuli to arise.
Follow each impulse expressing movement or sound.
Optional: Write what came up for you as you moved, or share what came up for you in person or virtually with a loved one or therapist.
Back and Forth Poetry: This form of creative expression is a tool used to create unique written expression from the heart with another person.

Take a few mindful breaths with a loved one in person or virtually.
Each person then proceeds by picking one word and it goes back and forth.
Try not to influence what your fellow poem writer picks.
If you feel it is the end of a sentence or needs another punctuation (comma, explanation mark, etc.) you get to choose that after your word.
Read the final poem that is created.
Share how the experience was and what the poem is about for you with your partner.
If you need mental health support right now, please contact cas@jfsseattle.org or (206)-861-3152. JFS is here to help, and we offer our services on a sliding scale. We also accept insurance. You can also visit our Counseling & Addiction Services webpage here for more information, as well as our Project DVORA (domestic violence services) page here.