Meet Kelsey Schulman, Mental Health Clinician & Intake Specialist at JFS! We spoke with Kelsey about a variety of topics, including what trauma-informed care means to them, the impact COVID-19 has had on our collective mental health, and what new clients can expect from a session with Kelsey.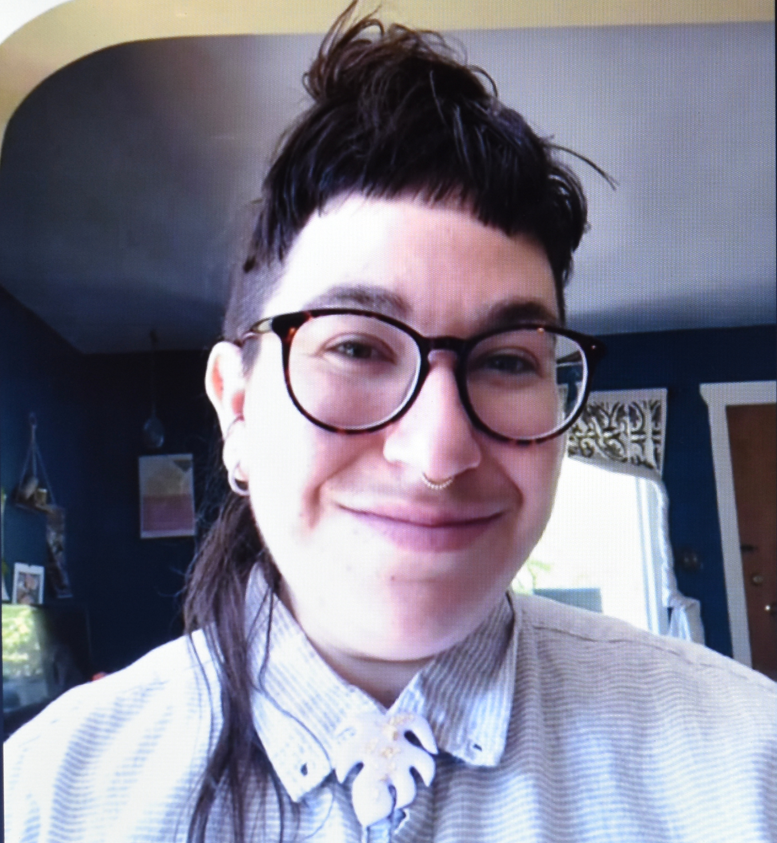 What brought you to JFS? Can you explain a little about your professional experience? 
I heard about JFS during my time in the Masters of Social Work program at University of Washington, where I graduated in 2018. Fellow JFS counseling staff member Aliyah Vinikoor was one of my advisors and would often mention how wonderful the counseling team was. As a member of the Jewish community who has worked across disciplines with mental health, disability, and folks experiencing historical trauma and oppression, I was called to work within my community using my skills as a healer. In the past I have worked at a non-profit in the Bay Area supporting folks with developmental disabilities, and have also served as a therapist at Navos in Burien working with adults with mental illness who are experiencing poverty. I also worked to support queer and trans youth at Camp Ten Trees in Seattle.  
Do you have any specific areas of interest or focus within your work?  
My main interest is working with folks who hold oppressed identities trying to survive within a capitalist system that makes it very difficult to both stay alive and maintain mental health. I enjoy supporting queer and trans folks and developing tools to connect with inner wisdom and resilience that comes from holding these identities. I also enjoy working with folks with ADHD to navigate the world while holding the stigma and shame that comes with being neurodivergent, while coming up with strategies together to move towards the life they want. 
What does a typical day in your role as Mental Health Clinician & Intake Specialist look like? 
I split my time between screening potential clients from the community and conducting intake assessments and doing direct client work and seeing clients for 50-minute therapy sessions each week. I enjoy connecting with community members, learning about people's stories, and offering resources when appropriate. I also am passionate about group work and am excited about the upcoming support group I will be co-facilitating with T from Project DVORA.  
What does "trauma-informed care" mean to you? 
While I have lots to say about this topic, to me it is about creating a container where survivors of trauma—whether that be childhood trauma, historical trauma, generational trauma, sexual trauma, racial trauma, etc.—are able to have autonomy in their care and explore the intricate ways in which trauma impacts their lives. In practice this looks like compassion, collaboration, checking my own biases and sticking to my word in order to build trust to allow each person to step into a place of curiosity about themselves and their world while holding the complex parts of their story.  
What can new clients expect during a session with you? 
From our sessions together, new clients can expect warmth, humor, and tuning into the body–mind connection. I am often whimsical and enjoy using evidenced-based interventions with my own approachable spin to connect and explore each client's goals and hopes for treatment.  
Given the past year and the impact of COVID-19 on our collective mental health, how do you think we will be affected in the long-term? What can we do to address this impact? 
I believe as a community we will notice an impact on our social anxiety, fear responses, and the way we collectively hold grief. We are all grieving; we are all afraid. Our bodies were not meant to exist in this state for long periods of time without coming back to baseline. I think we can try to find solace in our connections, in creativity, in the outdoors, and in play. 
What do you like doing in your spare time? 
In my spare time I enjoy taking walks and collecting flowers for friends and chosen family, swimming, camping, and dancing! I also enjoy making breakfast foods and hanging with my cat Parker.