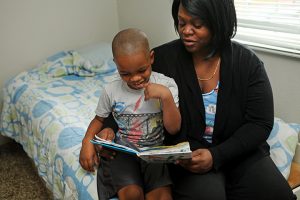 Jasmine was only able to work part-time after a ruptured aneurysm resulted in brain surgery. A single-mother recently separated from her husband, Jasmine was also homeless. "I was a Section 8 recipient, but you needed money for a security deposit and move-in fees," she said. "I didn't have it."
With the support of the JFS and Homeless to Renter (H2R) partnership, the 29-year-old and her four-year-old son found the resources and support they needed to become rehoused in the South Sound. Through JFS and H2R, Jasmine received financial assistance to help cover a portion of first and last month's rent, as well as the security deposit.
While move-in fees are often the largest hurdle for people struggling to get back into housing, there are other hurdles to achieving long-term stability. So after Jasmine and her son moved into their new apartment, Shira Stern, JFS Emergency Services Case Manager, followed up to see how the family was doing.
As it turned out, Jasmine needed help with her power bill. "Any number of obstacles can come up in the first year of new housing," Stern said. "We want to be a resource to ensure people are successful. It's about knowing we are there."
For Jasmine, that on-going connection after moving in made both a financial and an emotional difference. "I feel like you guys wanted me to win," Jasmine said. "Regardless of helping get me here, it was 'Are you still OK?' JFS will not only help you, they will keep a relationship with you."
Jasmine and her son aren't alone in receiving housing assistance and support on their path to stability. The JFS and H2R partnership helped more than 30 families in 2017.
"Because of you guys, I got to move into my home, me and my son," Jasmine said. "That was a blessing times 10."
Housing funds for this partnership come from H2R, a program of Temple Beth Am. Temple Beth Am members also provide handmade afghans for H2R clients. JFS provides case management to clients and advocates for them throughout the rental process.

By Rachel Anne Seymour, JFS Marketing & Communications Coordinator