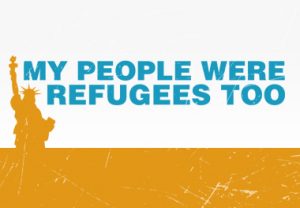 Today, Jewish Family Service filed a lawsuit against President Trump based on an executive order issued on October 24, 2017 (the "Presidential Executive Order on Resuming the United States Refugee Admissions Program with Enhanced Vetting Capabilities"). JFS is one of several plaintiffs in the case, including JFS Silicon Valley and a number of individual refugees and refugee family members. The case is entitled JEWISH FAMILY SERVICE OF SEATTLE, et al., Plaintiffs, v. DONALD J. TRUMP, in his official capacity as President of the United States, et al., Defendants.
We are very fortunate to have pro bono legal representation from a number of excellent law firms and national nonprofit organizations, including Seattle law firm Perkins Coie, the International Refugee Assistance Project (IRAP), HIAS and the National Immigration Law Center (NILC).
Last week was the 79th anniversary of Kristallnacht. We know all too well that if the United States shuts its doors to persecuted people, lives will be in jeopardy. Remembering our past, we are compelled to act now.
By Michele Rosen, Board President, and Rabbi Will Berkovitz, CEO