Editor's note: This story was originally published by HIAS.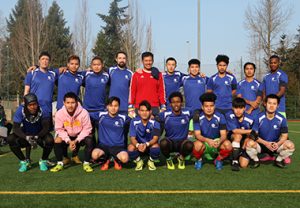 "Anyone can play, our demographic is very diverse," Ta Kwe Say proudly tells HIAS.org.
"We have players from Congo, players from Vietnam, a player from Somalia, a player from Iraq and Iran. We have players from Burma, and even different ethnic groups from within Burma like Chin, Karenni, and Karen."
Say, originally from Burma, is a resettlement case manager at Jewish Family Service, and the team manager and driving force behind JFS FC, a recreational outdoor soccer team formed in the summer of 2017.
By Say's estimation, the team is comprised of 90 percent refugees resettled to the Greater Seattle area, and also includes a handful of JFS clients and staff.
"There was another case manager and part-time staff member who also liked to play soccer, and we thought, why not start a soccer team?"
After Say got approval from his supervisors to move forward, a JFS board member's son got involved and dedicated his bar mitzvah project to fundraising for equipment such as jerseys, shoes, soccer balls and shin guards.
Say then signed the team up for the Liga Atzeca in Kent in their middle division. This spring, after being eliminated from the league championships in the quarterfinal in a penalty shootout, the squad won the consolation tournament in March 2018.
Finding time to practice during the week can be challenging, but a consistent group of players ranging from high school aged to their early 30's shows up on gameday.
"If players show up, they will get the chance to play," Say explains. "Everybody is participating because people coming together is more important than winning, even though we have different skill levels and backgrounds."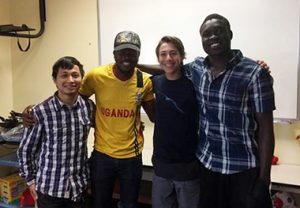 Zaki, a high school junior originally from Somalia who played forward for JFS FC this season, says he enjoyed the different cultures, the different people from different countries, and how he got to know his teammates through how they play the game.
As the team's manager, one of Say's roles is also to manage playing time during the games, which involves a measure of diplomacy.
"Sometimes they want to keep playing and don't want to come off," he notes with a laugh.
Ultimately though, JFS FC is about more than improving soccer skills and getting exercise, it's about building relationships.
"People can get stuck in different groups, so it's good to have friends coming from different backgrounds—to have a larger network outside of your immediate circle," says Say.
Kevin, one of Zaki's high school teammates from Vietnam who played central defense for JFS, echoes the sentiment.
"I used to just play with Vietnamese people, but after I joined, I know more people from around the world. They taught me a lot. I learned a lot not only in soccer, but also how to lead in life. They shared their experiences with me."
"We're brothers outside of the field and care for each other."