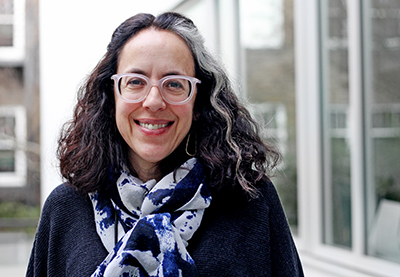 Rosemary D'Agrosa is a licensed independent clinical social worker who began her career 20 years ago providing counseling and case management in community health centers.
Now, she is the Director of Supportive Living Services at Jewish Family Service.
Rosemary comes to JFS from Neighborcare Health where she was most recently a project manager for multiple departments, including senior leadership. Neighborcare works to provide comprehensive health care to individuals and families who have difficulties accessing care. She also has more than a decade of experience running programs at Neighborcare for people experiencing homelessness.
We talked more with Rosemary about her career and what brought her to JFS.
What brought you to JFS and its Supportive Living Services?
I have been impressed with the work of JFS and its programs for years. The agency has a great reputation in the community, and people continue to tell me how much they appreciate JFS.
Like JFS, I value a client-centered approach. It is all about the client being the north star and guiding light of the agency's work. Providing direct social services and working in partnership with people is why I began my social work career 20 years ago.
What have you learned in your extensive social service background about supporting community members?
I have learned that building trust on an individual level can help people build, or repair, trust in institutions and organizations. When there is trust, people will feel more comfortable accessing additional support opportunities or engaging with other agencies.
When a person may not have someone they feel they can trust or speak openly with, it is vital we provide the space to foster those relationships. Connecting on a human level and genuinely listing to someone is an important part of building that trust and those partnerships with community members. As a social worker, I understand that you have to meet people where they are. Supporting someone's stated goals and their stated needs is critical in our work.
In my nonprofit career, I have also learned that it is an honor to have people share their stories with us and welcome us into their lives in this way.
What are you most looking forward to at JFS?
I am looking forward to being part of a committed team with people who are all client-centered and mission driven. It makes me feel like I am in the right place.
I am excited to help continue that culture and build our services to better meet community needs in the best and most effective way possible.