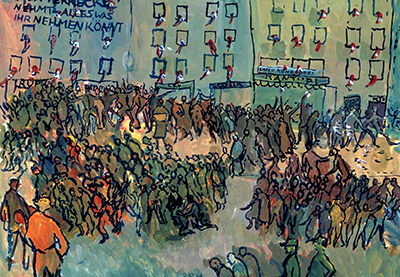 As we mark the 80th anniversary of Kristallnacht we are left to ponder the meaning of the rise in hate crimes and hate speech, in this country and throughout the world. It is human nature to think that if we understand something, then we will have control and be safe. But, being human means we are never fully in control. The uncomfortable truth is, we don't fully understand the hate talk and actions we are witnessing ― and, we certainly don't know the future. Even in the future, people will interpret the events of today through their own unique lenses, predictably coming to different conclusions.
Rather than put all our Jewish energy into finding clear meaning in terrifying events, Jewish tradition provides frameworks for living a life of meaning, even amid uncertainty and fear. As my teacher, Professor Deborah Lipstadt recently wrote, "We cannot let anti-Semitism become the building block and the foundation stone of our Jewish identity. Doing that, hands our enemies a victory."
Almost two thousand years ago, during a time of great persecution by the Romans, our people sought guidance. During that frightful time in which many Jews were martyred, the question was asked: Which Torah verse provides the greatest lesson for living a meaningful Jewish life? In other words, what is the essence of Judaism?
Rabbi Akiva answered, "Love your neighbor as yourself." Ben Azzai responded with a verse that declares all human beings are made in the image of God. Some see these as contradictory answers, but perhaps Ben Azzai is adding to Rabbi Akiva's message. Yes, the Torah is about love, as Rabbi Akiva asserts. But, Ben Azzai is aware that we might define our "neighbor" too narrowly, especially when we are afraid. Ben Azzai reminds us that all human beings are made in God's image. All human beings are "neighbors."
Today, we remember the tragedy of Kristallnacht and the horrors that followed. Because of Jewish historical trauma, we are hyper-alert to anti-Semitism. And yet, in times of danger Rabbi Akiva reminds us that opening our hearts and acting with love is the most important action over which we have control. Ben Azzai reminds us that the love must extend to all who are threatened, not just to Jews.
Kristallnacht this year falls on the first day of the new month of Kislev, the month during which we begin our celebration of Chanukah. Chanukah is a holiday of hope and light. The first day of a new month is a day of great joy. On this 80th anniversary of Kristallnacht, we are called upon to live in the present, humbly aware we can't know what the future will bring. We are called to consistently act from a place of love that extends to all people living in fear and to fully embrace the joy and hope our tradition offers.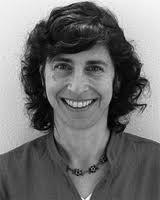 By Beth Huppin
Beth is the Director of JFS Project Kavod/Dignity. She has enjoyed teaching Judaics to children and adults of all ages in both formal and informal settings for over 30 years. She is the recipient of a 2010 National Covenant Award for Excellence in Jewish Education.
This content was made possible, in part, by funds granted by The Covenant Foundation. The statements made and the views expressed, however, are solely the responsibility of the author.
Art from Charlotte Salomon [Public domain], via Wikimedia Commons