We are thrilled to welcome Rebecca Coates-Finke to our Counseling and Addiction Services Program, as our new Teen and Young Adult Mental Health Counselor! Our Teen and Young Adult Mental Health Initiative focuses on improving the mental and emotional health of Jewish teens and young adults as they work through a myriad of issues at this pivotal time in life.  
What brought you to JFS?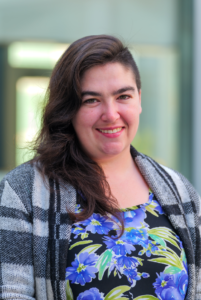 When I planned to move to Seattle this summer, I sought out mental health counseling positions that would allow me to work with teens and young adults, in a community-focused setting, with the option of running groups, and the ability to work with others within my clients' communities. The Teen and Young Adult Mental Health Counselor position with JFS met and exceeded all of my wishes. I come out of school-based counseling work, as well as 3 ½ years of experience at a domestic violence agency, both in shelter and community services, and I've been privileged to experience a diversity of Jewish communities through my upbringing and adult life. 
What excites you about working with teens and young adults?  
I am energized by my work with teens and young adults because they are often available for and interested in the kind of self-exploration work that therapy supports and encourages. Teenagers and young adults are tasked with building a sense of self that is informed by, but separate from, family, community, and peers. It is an incredibly challenging task, particularly with the responsibilities and expectations foisted on them as they "leave childhood." I am always honored by the opportunity to facilitate the journey necessary to find who they are, and who they want to be.  
What will your role as Teen and Young Adult Mental Health Counselor involve?  
My goal in this position is to increase support and awareness for the mental health needs of teens and young adults in our community, and I have the opportunity in this position to approach this goal in a variety of ways. I will serve as a therapist for teens and young adults, working with clients about once a week for approximately a year, depending on the client's needs and preferences. I will also provide programming content for those working with teens and young adults, whether that is school and university professionals, parents, or community leaders.  
How do you approach working with Teens and Young Adults?   
I am trained as a drama therapist, so my counseling work is grounded in playfulness, creativity, and storytelling. I enjoy working with teens and young adults on identity and values formation, re-imagining relationships with family and friends to best suit our growing selves and building the tools for self-compassion. I am always invested in understanding the experiences of my clients in the context they live in. They are impacted by climate change, systemic oppression, political conflict, the increase in school shootings, the global pandemic; all chaotic and frightening things happening in the world. They have access to unprecedented amounts of information with widely varying credibility and nuance. I approach my clients with the utmost respect for the ways they have learned to navigate these complex realities with the information they are able to find. Together, we can identify options and possibilities for building the life they wish to live. 
What can new clients expect during a session with you?  
I try to approach sessions with openness, warmth, and ease. Clients can expect me to be open to humor, even about difficult subjects. I hope to communicate unconditional respect for the ways the client moves through the world, as well as boundless curiosity about alternate routes that could be available, both in their lives outside the therapy space as well as within the therapy space.  
What do you like doing in your spare time?   
I am trying to swim in Lake Washington for as much of the year as I can manage, and I enjoy anything that involves being near or in water. I also love to hang out with my nephew, who is the first baby in our family and just under a year old.  
You can learn more about our TYA initiative, here.