By Beth Huppin. Beth is the Director of JFS Project Kavod/Dignity, the Jewish education program at JFS. She has enjoyed teaching Judaics to children and adults of all ages in both formal and informal settings for over 30 years. She is the recipient of a 2010 National Covenant Award for Excellence in Jewish Education.
The famous Passover question, "Why is this night different from all other nights?" takes on new meaning this year. Celebrating this communal holiday with only the people we live with means some will celebrate alone. Others will join Seders on computer screens, a foreign and uncomfortable practice for a holiday meal. On Passover this year, Jews throughout the world will ask: How do we live in this new reality in which COVID-19 is an "Egypt" experienced by the entire world?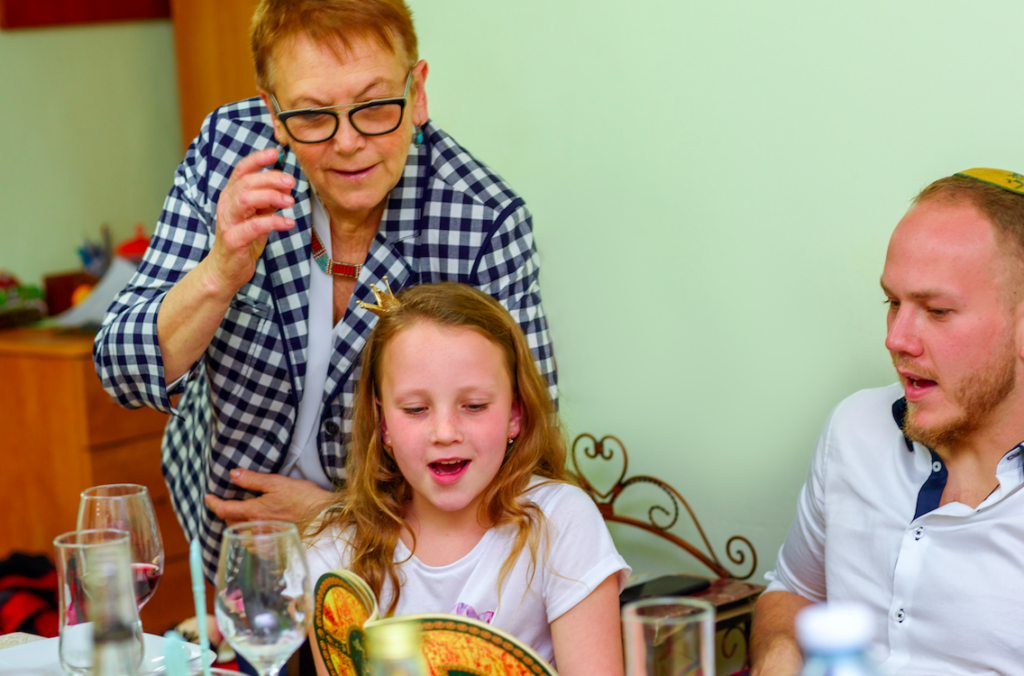 Perhaps a way to successfully navigate this year's different Seder exists in plain sight, embedded in the Passover story. Rather than remain focused on being "in Egypt", the Seder experience reminds us that the focus of the Passover story is that we went out from Egypt.   
The story of leaving Egypt relates to the research of Marshall P. Duke, Ph.D., Professor of Psychology at Emory University, regarding what he calls, "The Multi-Generational Self."  He writes:
Through family stories, children develop a sense of what we call the "multigenerational self," and the personal strength and moral guidance that comes with that. When something challenging happens, they can call on that expanded sense of self to pull through.
The "multigenerational self" as a source of resilience is a key aspect of the Passover story. It reminds us: Egyptian bondage was real. But it wasn't permanent. Together, you left Egypt then and together you have the capacity to leave it now.
In one striking passage in the "telling" section of the Haggadah, we read that Rabban Gamliel taught: Whoever doesn't say these three words: Pesah (referring to the shankbone), Matzah and Maror (bitter herbs), has not fulfilled their obligation [for telling the Passover story.]  Just say three words! Still, we wonder: Why these three words? Why in this order? The resulting rich discussion starts with a core of only three words.
In this "different" year, these three words might model an idea for how to tell the Passover story in a new way, yet still within the spirit of Jewish tradition. Perhaps this is the year to ask everyone at the table (literally or virtually) to tell a personal six-word story of overcoming adversity.
Here is a definition of a six-word story:
"… [S]ix-word stories are (very) short stories with an exact word count: six words. Alongside quality, quantity really does matter. Though these stories are so brief in length, they can be…profound…partly because six-word stories can tell us so much and yet contain so little."
At the Seder this year, let us access and strengthen our "multigenerational selves" through telling the grand story of our people leaving Egypt, an example of our ancestors overcoming adversity. And, since we are taught that in every generation we should see ourselves as leaving Egypt, let's also share personal stories of resilience. These can be stories about our families, about beloved teachers or friends, or personal stories. The key is to tell stories that remind us that overcoming hard times is possible.
Here are examples of six-word stories of resilience shared by members of our Seattle community:
Limited food. Fed family, friends, future.
Orphaned. Alone. Became loving father, grandfather.
Looked in mirror: I said, no.
These aren't "wise sayings" or "words to live by." They are the essence of true stories, reaching deep into the heart of resilience.
This year, ask friends or family members to share six-word stories of overcoming adversity either at the Seder or in the days or hours before Seder night. Then, in the spirit of Passover questioning, ask for details. In this way, we tell stories that remind family and friends of our "multigenerational selves," and access a crucial source of strength during this time.
Sitting together or alone on Seder night let us remember that the next generation will tell stories of how our generation overcame the "Egypt" of a pandemic. What six words might be used to tell our story? May future generations say that we took strength from stories of our "multigenerational selves." That we found creative ways to tell and live the eternal story of Passover: that we left this "Egypt" because we were willing to enter the "desert", not knowing what was next but holding faith in a future not yet seen.
If you'd like to share your six-word story of resilience, write it to the comment section below. Also, in the spirit of nontraditional Seders, please join Beth along with Rabbi Samuel Klein (Federation), and musical artist Chava Mirel on Monday, April 6, for an "Un-Seder Experience" over Zoom. More details here.