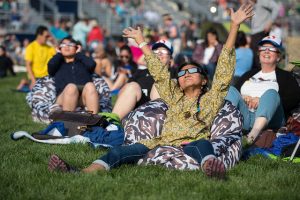 We are living in an era when attention spans are assumed to be 140 characters or less — two bits as my dad would say. That's how much we are willing to "pay" for our attention. In Hebrew, "pay attention" is literally translated as, "place your heart." Placing our hearts requires effort. It requires us to focus beyond the chaotic white noise that fills so much of our lives.
Like many people, I witnessed the total eclipse. With the coyotes howling and geese taking flight, experiencing that 360-degree, midday sunset was profound. But the awareness that millions of people were experiencing the same thing was even more profound.
We were doing more than merely looking up at the same time. We were sharing a transcendent experience, a bending of the natural order. It was extraordinary that so many people, with so many different beliefs and perspectives, could pause, step outside and have a collective, uniting experience. Imagine what could happen if we made that choice again.
With the Jewish new year and the communal season of reflection upon us, we have an opportunity to make that choice. We can choose to start placing our hearts with the people around us, willingly and freely. We can choose to look up and look beyond ourselves. To have a collective moment of reflection. To place our hearts outside our expectations. To seek a fuller, deeper understanding of those around us.
Placing our hearts requires a measure of humility and an openness to encountering something beyond our expectations. Placing our hearts means imagining a world where we see people for who they really are, where we seek to understand the lived experience of those around us, from their perspective. Not with judgement, but with compassion.
And then, rather than penciling in their lives from our assumptions about who they are and what they believe, we pause. We place our hearts, as individuals and as a community. We truly listen — with openness, curiosity and vulnerability. And with those first rays of new light, we can, if we choose, see our world and those around us, as if for the first time. That is the hope offered with each new year, if we are willing to choose it.
Photo by Aubrey Gemignani/NASA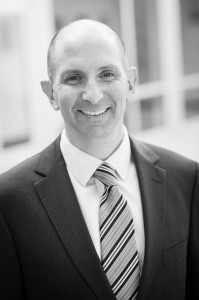 By Rabbi Will Berkovitz
Will is CEO of JFS. Will is a long-distance runner, avid hiker and backpacker. He particularly enjoys volunteering in the Polack Food Bank and helping with refugee resettlement.