By Shaida Hossein, OTD, Behavioral Health Education and Training Manager
Schooling from home is often mistakenly called homeschooling—but the two are fundamentally different. In homeschooling, parents or caregivers act as full-time instructors, while during schooling from home (often called virtual school or remote learning), online teachers manage the students from afar with a structured curriculum.
This year, schools had to adjust in unanticipated ways that hurled millions of students into home learning environments. It would be an understatement to say these are challenging times.
Remote learning is testing the limits of all types of families as they try to juggle the roles of "worker", "teacher" and "parent". Some single parents who are also essential workers cannot afford to miss even a day of work. These parents are faced with the daily dilemma of what to prioritize: their children's education or their jobs that pay the bills. This pandemic has taken agency and control away from families—home education is a reality rather than a choice.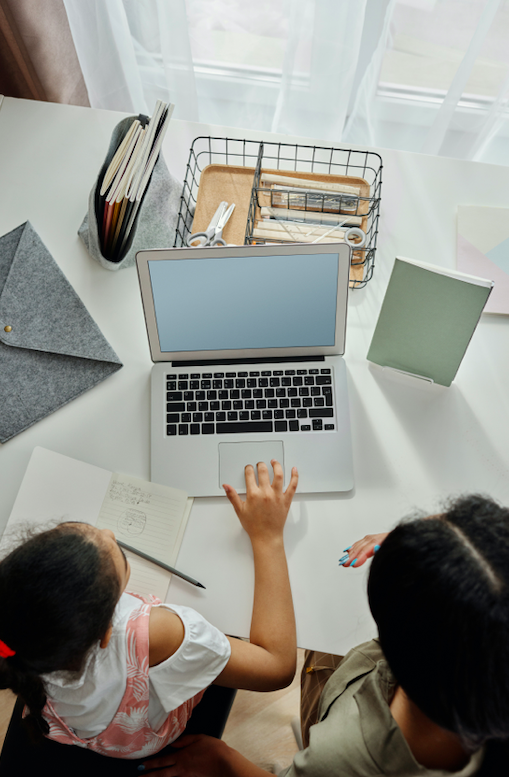 Parents across the world are all trying to do the best they can with the information they have. In a recent New York Times article, it was reported that "the mental health impact on parents remains significant and shows no signs of abating." At JFS, we've seen a clear increase in parents reaching out for support as they deal with the stressors of COVID-19 and the de facto schooling from home that comes with virtual classes.
From our community, we are hearing firsthand how hard our teachers and parents are working to achieve a sense of normalcy and routine in this new world of hybrid and virtual classrooms. In October 2020, JFS hosted a virtual Parent's Night for caregivers and parents at Northwest Yeshiva High School. Participants shared the challenges they were experiencing, such as the difficulty of helping their children with online content and different technology platforms. Other challenges were more high-level, such as the feeling of anxiety when considering how this period of remote learning will negatively impact college and career prospects for kids in the future.
Many parents and caregivers may also be experiencing the following:
The constant pressure to supervise children, given COVID-related changes to kids' education schedules and routines.
The worry that long-term effects of isolation will negatively impact children socially.
The concern that children do not have access to healthy food or do not make healthy snack choices when unsupervised.
A feeling of discouragement that children are not motivated or interested in engaging in hobbies or extracurricular activities.
The frustration of "battling" with children on the amount of screen time they get.
A decline in work productivity due to devoting more time to kids' schoolwork.
The feeling of overwhelm due to the steep learning curve when it comes to virtual learning, and the feeling of not being able to provide technical support to children.
It's clear that parents and caregivers are facing so much right now. Instead of saying, "let me know if you need anything," we should start actively showing up for one another and sharing what we can offer today. Here are some possible strategies for decreasing the stress of virtual learning:
Develop a routine or schedule for yourself and your children, and review these expectations at the beginning of each day. Discuss when your children can spend time with you, and when they should avoid interrupting you.
Figure out what self-care ritual is realistic for you now—it might look different than how it did eight months ago.
Connect emotionally with others, even if it is through text messaging.
Tap into new, everyday sources of meaning (i.e. early morning walks with your children).
Establish a dedicated workspace for at-home learning.
Reach out for informal help from friends, and formal support from professionals.
Recognize that you do not have to have all the answers, and it is fine to acknowledge your own worries and uncertainties.
Separate what is in your control from what is not—there are things you can do, and it is helpful to focus on those.
Challenge yourself to stay in the present—when you find yourself worrying about something that has not yet happened, gently bring yourself back to the present moment.
Try creating a "gratitude list" to give you a fresh perspective and focus.
Work in shifts if possible (work with one child for a couple hours, then the next child, and then your work shift).
Communicate with the school as much as possible about how things are going. It is important for teachers to know what is working and not working for your children so they can get the help they need.
We recognize the impact that COVID-19 is having on our mental, physical, emotional and spiritual wellness. If you need mental health support right now, please contact cas@jfsseattle.org or (206)-861-3152. JFS is here to help, and we offer our services on a sliding scale. We also accept insurance. You can visit our Counseling & Addiction Services webpage here for more information, as well as our Project DVORA (domestic violence services) page here. In addition to our 1:1 counseling services, we also provide dedicated parent coaching (1-3 sessions available) and mental health education workshops and training.