Meet Shaida Hossein, Behavioral Health Education & Training Manager at JFS!
Since 2016, Shaida has instructed 1,235 participants in 68 Mental Health First Aid (MHFA) trainings that aim to teach the public about mental health and substance-use issues. Shaida obtained her Doctorate in occupational therapy with a concentration in mental health and neuro-rehabilitation from Creighton University, in Omaha, Nebraska. She completed clinicals at Memorial Hermann Hospital, Houston; Utah State Hospital, Provo; and VA Puget Sound, Seattle. Today, she is a certified Mental Health First Aid trainer for multiple groups; including adults, youth, veterans and families, and higher education. Additionally, she is an Applied Suicide Intervention Skills Training (ASIST) trainer and a Suicide Alertness For Everyone (safeTALK) instructor. In 2018, Shaida was named a Top 20 National MHFA Trainer, and in 2020, a Top 2 MHFA Instructor in Washington state.
We caught up with Shaida on her career and what brought her to JFS, below.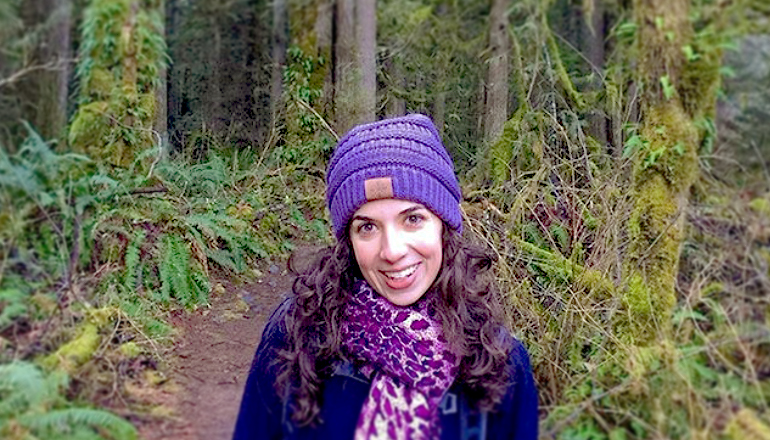 What brought you to Seattle and to JFS, specifically?
In 2011, I visited Seattle for the first time during Memorial Day weekend, and the city had such a memorable first impression on me. When it came to picking my last clinical site before I graduated, I knew I wanted to live and work in Seattle. I completed my last clinical at the VA Puget Sound in Seattle in 2012, and never left. I now call the Pacific Northwest home! I cannot imagine leaving the rain, the hiking trails, or the coffee scene.
I started in Seattle working with clients and their families, and then switched to nonprofit program management in 2015 with a nationwide nonprofit that provides free mental health services to the military-affiliated population. In 2016, I realized that I missed direct interaction with clients and applied for a position in the Supportive Living Services program at JFS that allowed me to increase opportunities for clients to engage in their communities, reduce their isolation, and help them build meaningful activities in their lives. This position really resonated with me because it was such a novel and energizing approach to improve clients' quality of life and self-sufficiency. Since being at JFS, my position has grown into a more interdepartmental and community-wide role including the new Teen and Young Adult program (TYA) and behavioral health educational offerings within the Counseling Services department.
Why are community trainings like MHFA so important? Who are they for?
I first attended a MHFA training in 2014, because I was making referrals to family members and loved ones to take the training to help them support themselves and those in their lives experiencing mental health issues. I wanted to make sure I was making a helpful and appropriate referral.
The trainings are open to anyone 18 years of age or older. Mental Health First Aid prepares people to assist individuals experiencing mental health issues and crises. Throughout this experiential program, it seeks to reduce the stigma associated with behavioral health issues and provide early intervention care by training community-based organizations, professionals, and the general public. It is absolutely pivotal that folks are aware of risk factors and warning signs for mental health and substance use issues. It's also important that they are able to offer appropriate support and identify appropriate professional help.
Can you provide any anecdotes/examples you've received from participants who have completed the MHFA trainings, and who successfully applied their skills to helping someone in need?
Attendees routinely share that it has been immensely helpful to know about other resources besides 9-1-1 to call during a mental health crisis. Other comments have included the following:
I am a foster parent, and I found information shared in the class to be helpful for both me and my husband.
Very informative and useful for work and personal life.
One of the best trainings I've attended. I've truly appreciated the fact that there was information, examples and practice.
Thank you for offering this workshop for free, so friends and family members whose loved ones are experiencing mental health issues can be supported with current, relevant information and resources.
I felt like the course better equipped me to de-stigmatize mental health disorders and challenge misconceptions in everyday conversations.
Excellent course and excellent level of engagement/participation.
Time well spent. It helped me confront misconceptions and stereotypes. I am leaving this course better informed.
Thank you. This is a very valuable community service.
This was a great course and made me reflect on my ability to help others developing a mental health disorder. I am glad I attended as I gained more than I expected.
This course was enthusiastically recommended by a friend. It was outstanding and I will be encouraging others to attend.
What would you say to someone who is thinking about attending a training but is unsure of what to expect?
Feel free to email me if you have any questions and want to discuss things one-on-one! You will not be forced to share anything that you do not want to share; it's a learning environment. The training includes eight hours of content plus a one-hour lunch, so it is a nine-hour commitment in total. Each attendee receives their own manual that they can take home. The trainings consist of a PowerPoint presentation, large and small group discussions, and interactive activities such as scenarios and role simulations. Attendees will learn about local and national resources that can help them in their roles as Mental Health First Aiders, including the services and resources at JFS.
What do you like best about leading these trainings? 
I am proud to be on this journey with my fellow Mental Health First Aiders, de-stigmatizing mental health throughout the community. I truly believe that together, we have the priceless opportunity to impact, influence, and inspire others to seek out mental health help and services. I am proud to be giving back to my community with these invaluable trainings, and I love the interaction with attendees. I genuinely believe attendees are craving local and national resources when they come to these trainings–and when they leave, I see them feeling confident and comfortable referring others to those resources. It has been very rewarding to be an Instructor, and I will continue to do my best in educating the Mental Health First Aiders of tomorrow.
For questions about Mental Health First Aid trainings, please get in touch with Shaida at mentalhealthmatters@jfsseattle.org. Due to COVID-19, our current trainings are canceled until further notice. You can consult our website calendar for information on future trainings. In the meantime, you can watch this MHFA role play that shows some of the techniques learned in a typical course.