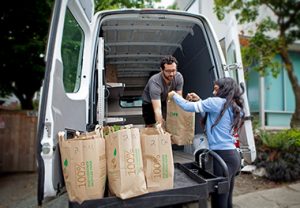 Looking for summer volunteering opportunities? JFS can use your help with the following events and supportive opportunities that directly benefit our clients and community.
Contact Volunteer Services today to begin the process and find the summer volunteering that's right for you!
Please note that openings and needs may change with time.
Market Gleaning
Sundays, 2:30 – 4:30 p.m.
We need volunteers for the following dates:
July 8 and 22
August 12 and 26
Farm Gleaning
Fridays, 10:00 a.m. – noon
We need volunteers for the following dates:
Friendly Visitors
Build caring, meaningful relationships with people in Supportive Living Services. Volunteers are thoughtfully paired with an individual to provide companionship and community connection that can reduce social isolation and the negative mental health outcomes that can come with it.
Organize Donations for Resettled Refugees & Other JFS Clients
Sort and inventory items during business hours. This helps us efficiently distribute goods to those in need.
Food Delivery
Prepare bags of food and toiletries at the Polack Food Bank and deliver them to homebound clients.
Shifts are available:
Weekdays, 9:00 a.m. – 6:00 p.m.
Second Sundays of each month, 10:00 a.m. – noon or 1:00 p.m. – 2:30 p.m.
Fourth Sundays of each month, 10:00 a.m. – noon.
Available neighborhood routes include:
South Lake Union
Greenwood
Bellevue/Crossroads
Picnic for Supportive Living Services Clients
Sunday, September 30
11:00 a.m. – 2:00 p.m.
Lend a hand to set up, clean up and support this annual summer celebration. The picnic will be in south Seattle.
Food Sort
Sunday, September 30
10:30 a.m. – 12:30 p.m.
Volunteer to help sort and organize thousands of pounds of donations from the JFS Community-Wide Food Drive. All donations will go to help people in the Puget Sound region who count on the Polack Food Bank.
Contact Volunteer Services to learn more.