See how teens can get involved with JFS today.
Teens are helping make a difference in the community throughout the year by partnering with Jewish Family Service. They are initiating hands-on volunteering, from supporting survivors of domestic violence to helping resettled refugee families, as well as working to educate themselves and gain a better understanding how Jewish values can guide our work together.
We talked with a few teens and youth organizers about their experiences and partnerships with JFS.
Mikayla, local B'nai B'rith Youth Organization (BBYO) member
"BBYO decided to come to JFS to help make a difference because we believe that it is important to give with Jewish values in mind, which is something that JFS takes pride in doing. In addition, we decided it was essential to stand with and support people who are more vulnerable, including victims of anti-Semitism and survivors of domestic abuse. When we discovered that JFS supports these groups, and much more, we immediately knew we wanted to work with JFS."
Julia Thompson, Education Resource Coordinator for the Holocaust Center for Humanity
"Our students are eager to put their values and ideas into action. They want to learn about history and current events, as well as go beyond that learning and discussion to act on related issues in their communities.  We've talked a lot about what concrete actions can be taken to support others or make an actual difference. When we were able to first learn about refugee experiences with the help of JFS and then create school supply kits for families, it made a lot of sense. Education plus project-based action is the perfect volunteer experience for our student board."
Makena Mezistrano, Program Director for HAMSA
HAMSA is a teen co-hort with Sephardic Bikur Holim and Congregation Ezra Bessaroth.
"One value that we are hoping to impart to our teens is that of a heightened awareness for issues that are close to home. We want them to be sensitive to the issues around them and to actively seek out ways they can help. This may mean taking the initiative to start a community project on one's own, or it could mean networking with community organizations to achieve a common goal. The latter is the type of connection we are hoping our teens will form with JFS. Our HAMSA teens will go to JFS to learn about refugees and the ways they can help. They will then plan and execute a supply drive in our community to take on an active role in alleviating some of the challenges that newly resettled refugees face in this country."
Contact Volunteer Services at volunteer@jfsseattle.org or (206) 861-3155 to learn more.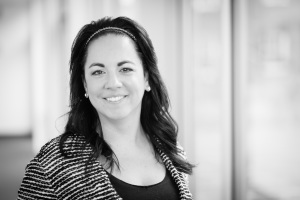 By Leslie Sugiura, Director of Volunteer Services
Savvy cook, extreme clam digger, urban gardener and mom are just a few of the other titles Leslie keeps in rotation.