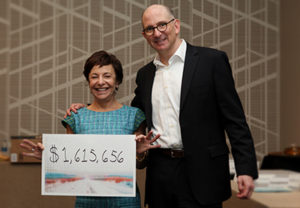 Our ancestors understood the importance of community implicitly as our tradition was built on the belief that we can't separate ourselves from each other and hope to survive. As a community, we are all tied to each other and responsible for one another.
Our work is inextricably bound to three questions from the tradition: If I am not for myself, who will be for me? If I am only for myself, what am I? And, if not now, when?
On April 2, 2019, our community came together at the Community of Caring Luncheon with 1,063 people to help answer these questions and to support of the work of Jewish Family Service. Donors and sponsors contributed an extraordinarily generous total of $1,615,656 to ensure JFS can continue to provide providing quality services and programs that help our neighbors create better futures for themselves and their families.
Every day, our dedicated JFS team responds to the challenges individuals and families face in their most vulnerable moments. Because of our caring community, we are able to help people achieve greater well-being, health and stability.
Together, we will continue to meet the particular needs of Jewish people in our region and also provide lifesaving services to those in the greater community who turn to us. We are grateful you are part of our JFS family because there is no doubt — now is the time.
And, when those in need wonder, "Who will be for me," together, we will provide an answer.
Please share the 2019 Community of Caring Luncheon video and help spread the word about the essential role JFS plays in the Puget Sound region.