By Rebecca Mather, Volunteer Services Coordinator
One of my favorite things about JFS Community Connections is our focus on multigenerational education, community building, and volunteering. It is in the spirit of this multigenerational connection that we launch our new B'nai Mitzvah Guide.
A young person's B'nai Mitzvah symbolizes autonomy and responsibility for their Jewish identity and practice, with the support of their family and community. Along with chanting from the Torah, delivering a speech, and celebrating with their community, many young people engage in a mitzvah project, or act of service, to commemorate the occasion. While JFS has long been a resource for youth and their families in their B'nai Mitzvah Project, this guide is an exciting opportunity to enhance and deepen this Mitzvah Project process.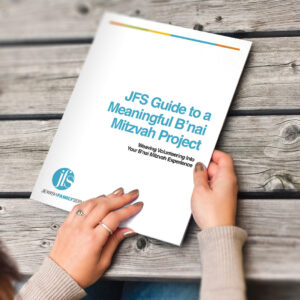 Intentional volunteering is an invitation to put values into action, deepen our roles in our community, and to build relationships with people we might not otherwise interact with. The JFS B'nai Mitzvah Project model is rooted in a belief that young people are capable of wrestling with difficult questions about the world around them and take action to create change in their communities.
We know that the B'nai Mitzvah process is often as overwhelming as it is exciting for tweens and their families. JFS seeks to make the Mitzvah Project an accessible, meaningful process. Our guide offers exercises in recognizing personal values and putting them into action, detailed tips for identifying a mitzvah project, and a menu of JFS volunteer opportunities. While JFS has a wide offering of volunteer opportunities, the most important part of this process is for young people to find an experience that is meaningful to them, and this guide was designed to be helpful whether you volunteer with JFS or elsewhere.
We invite you to explore our B'nai Mitzvah Guide and then, whether you already have an idea in mind for your B'nai Mitzvah project or you still need help getting started, send your thoughts and questions to volunteer@jfsseattle.org. Please include your name, the date of your bar/bat mitzvah, and your synagogue/temple/community group. We're eager to hear from you and to work together!