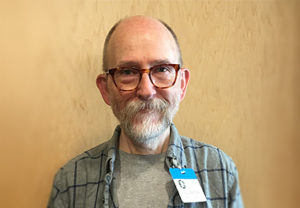 JFS offers many ways to get involved. Friendly Visitors play an instrumental role in reducing social isolation for our clients by providing companionship and community connection. Tom Smith is a volunteer with the Friendly Visitor Program. After retiring from his career at Harborview Medical Center, he's volunteered with JFS for almost a year. He's involved as a Friendly Visitor, and he also volunteers in our Food Bank and Home Delivery programs. Throughout his volunteer time, Tom has made a lasting impact visiting with Matt, the partner he was matched with — together, they go on walks, explore new neighborhoods, and connect over coffee.
What inspired you to get involved with JFS as a Friendly Visitor?
I had been looking for additional volunteer opportunities beyond the Food Bank. In my initial research, I found a lot of local volunteer roles focused on helping people not be so socially isolated. I realized there must be a great need for volunteers to help people who don't have a lot of connections in the community.
When I saw the Friendly Visitor position in the JFS e-newsletter, it was serendipitous. I had already been considering volunteering in a similar role. I was already a volunteer with JFS, and it seemed like a great opportunity.
What's special about your time with Matt?
Matt is a year younger than I am, but because of some health challenges, he is at risk for being socially isolated. Because he is a contemporary, we have similar experiences and viewpoints. We have a lot of good discussions about current events and politics. Also, Matt and I are both transplants, so we have a shared history of rebuilding our lives in a new place. Being a transplant puts you in a different frame of mind — you always need to reach out to people, because you don't have your siblings and cousins and everyone out here to support you.
How do you typically spend a visit with Matt?
Due to his health challenges, his physician has asked him to get more exercise. One of the things that we do regularly is walk. Every time we get together, we pick a new route or a new part of the neighborhood, because the goal is to spend a couple of hours just walking. Usually about halfway through, we'll stop at a coffee shop to get refreshed for our walk back.
What has surprised you the most about your volunteer experience?
The extent of the needs of people in every community is much greater than I even realized. You have the stereotype that older adults are people who are socially isolated. Yes, that's true, but because of illness and other circumstances younger people too are at risk of becoming isolated. You might not realize that someone right down the street from you, someone who seems to be out and about, needs help.
People might seem to be doing fairly well, but behind closed doors, they really need someone to connect with. Isolation can affect anyone — from people new to this country to people who were born and raised in Seattle — and just all of life's circumstances that have brought them to that point.
When not volunteering, how do you spend your time?
I retired over a year ago, and it has been an interesting journey for me. I went from a career where I was working 60 to 70 hours a week, to retirement, where I was facing a big block of unstructured time. I have taken on a lot of volunteer activities, but incrementally, to see where the sweet spot was. Even with all my volunteering commitments, I still feel like I can do the things that I put off during my working career — some remodeling, some home projects, for example.
Do you have any advice for potential volunteers?
You can't go in to a volunteer role thinking it is a therapeutic relationship or that you're providing some service to someone. Because really, you're just allowing this person to share their need for social connection with you — and in return, you share it with them. It is an experience that you both learn and gain from. You don't just gain from it in an "I'm doing this good thing for someone way," but you're actually connecting with someone, and that means that you are connected to them. Matt has become my friend and, in a way, he provides social support for me too.