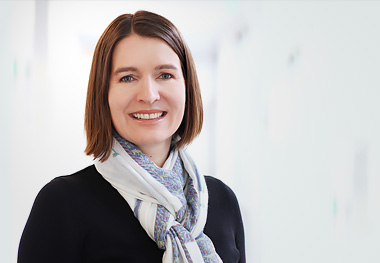 Kristin Winkel becomes the JFS Chief Operating Officer (COO) on March 30. A Seattle-area native who has lived in New York, Boston and Japan, Winkel and her husband returned to the Pacific Northwest a decade ago when they decided they wanted their two young daughters to grow up close to grandparents.
Winkel earned her undergraduate degree at Vassar College and began her service-focused career at what is now called the Food Bank for New York City.
"I loved that work on the front lines with low-income, vulnerable families in the public schools. That was where it started to gel for me that I wanted to work in social service and public policy," said Winkel.
The passion ignited in New York led Winkel to Harvard University where she completed a Master's degree in Public Policy. Winkel put her academic accomplishments to good use in her decade-long tenure at the King County Housing Authority.
"My role in government was really as a public funder. I built relationships with non-profits, private foundations and other public funders," said Winkel.
Winkel managed those relationships with a focus on how they would provide vulnerable people access to the resources necessary to help propel their lives in a positive direction.
"Housing is the platform. When you give people housing, they have some stability. When they have the services, they are then able to take initiative and move forward," said Winkel.
This deep experience in holistic services for people facing complex challenges is something Winkel expects to draw from in her new role. As COO, she will manage a variety of programs and departments that serve a range of populations. Having studied the JFS strategic plan and its emerging direction, she sees an organization, "poised to go to the next level."
And in Winkel, Chief Executive Officer Will Berkovitz sees a valuable partner with the skills, education and experience to shepherd the organization's evolution with him.
"As we continue our progression to outcomes-based, data-informed delivery of our core services, I'm excited to have Kristin as a thought partner with our executive team and program directors," said Berkovitz.
For Winkel, coming to JFS represents both a new beginning and continuity in her professional path. "I'm excited to be returning to the non-profit sector with another mission-driven organization. The energy that comes from that sense of shared purpose is something I value and really see at JFS," said Winkel.
By Deb Frockt
Deb Frockt is Director of Marketing & Communications. She enjoys baking, beaching and learning about golf, both kinds of football, fashion and pop music from her husband and sons.