Contact Volunteer Services at (206) 861-3155 to learn more about the Friendly Visitor Program.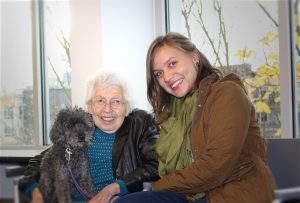 In 1928, Miriam Lippman was born in Krakow, Poland. Herbert Hoover was elected president. The first all-talking motion picture was screened. And pop music hit-makers were Al Jolson and Bessie Smith.
In 1994, Emma Kibort-Crocker was born in Seattle, Washington. Bill Clinton was president. "Amazon.com" was registered as a domain. And Billboard chart-toppers included Boyz II Men and Salt-N-Pepa.
In 2015, when JFS connected Miriam and Emma through the Friendly Visitor Program, the differing experiences and decades between them only added to the quality of their intergenerational friendship.
Emma, how did you decide to become a Friendly Visitor?
Honoring elders is a value I was raised with, but a value is really nothing if you don't do anything about it. My living grandparents are not here in Seattle, so my relationship with Miriam fulfills some of that for me. It gives me a connection with someone who is wise and has experienced more of life than me.
Miriam, tell us about getting to know Emma.
I didn't think my friendly visitor would be so young. I was expecting someone my age — or maybe a little younger. Emma is young, yet so giving. She's already participated in so many adventures in her life, but she finds time to visit with me on top of her schooling.
Emma, what's special about your time with Miriam?
It's different than with my peers — in the most refreshing way. I don't connect with Miriam through social media. I have to be intentional when I get together with Miriam. It's nice to slow down, sit and talk, have a cup of coffee together.
We understand you two spent Rosh Hashanah together this year.
Emma: Yes! Over the months I was getting to know Miriam, I told my parents so much about her. I invited Miriam to spend the holiday with our extended group of family and friends. I was really excited for everyone to meet her.
Miriam: It was a special experience for me, to spend time with the people who raised Emma and gave her these values.
After the Holocaust, Miriam lived in Israel, which is where she met her husband, Archie Lippman (z"l). Over the last decade, she has enjoyed participating in JFS Endless Opportunities events. Emma is a University of Washington senior studying Comparative Literature. She has spent extended time studying in Israel and traveling abroad.
By Deb Frockt
Deb Frockt is Director of Marketing & Communications. She enjoys baking, beaching and learning about golf, both kinds of football, fashion and pop music from her husband and sons.