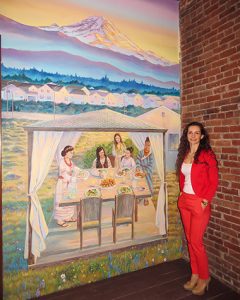 The Ukrainian landscape recreated in oil paint, and the bald eagle, a symbol of the United States, brought to life in strokes of pencil. These are the visions of Olha, a Ukrainian refugee who was resettled by Jewish Family Service. Both pieces were on display at ARTvocacy in 2017.
"Our refugee artists reflect the unique diversity of the U.S. Refugee Admissions Program," said Margaret Hinson, Director of Refugee & Immigrant Services at JFS. "They are from all over the world, of all religions, genders, ages, and with varied educational and professional backgrounds. They are painters, sculptors and poets."
ARTvocacy, which takes place on World Refugee Day in 2018, brings together refugees and those who support them. The event is coordinated by JFS, the International Rescue Committee and Lutheran Community Services Northwest.
World Refugee Day is a day to reflect on the global refugee crisis and celebrate the courage and resilience of refugees. "It is vital we bring attention to this historic level crisis and call on our communities to stand with refugees," Margaret said. "We also leverage this day to honor the diversity and unique skills that refugees bring to their new homes. Locally, we do this through ARTvocacy."
The event is more than a chance to show community support for refugees though. It is also time for refugees to meet others with similar experiences and build new connections.
"ARTvocacy is an important opportunity for refugee artists to meet new friends and to show their artwork to people who love art," Olha said. "Last year, I made new friends from all over the world."
After ARTvocacy last year, Project Feast commissioned Olha to draw illustrations for the zine "Roots & Recipes" and paint a mural about friendship and traditional food at Ubuntu Street Café.
Ohla will again exhibit at ARTvocacy. "I will be showing new artwork," she said. Her art will feature parts of her new life in the Puget Sound region, including an eagle flying over Mount Rainier and a view of Seattle from a ferry ride she took with her family.
For more of Ohla's work and art by refugee artists, join us in celebration of World Refugee Day.
ARTvocacy
Wednesday, June 20, 2018
6:00 – 8:00 p.m.
La Marzocco Cafe, 472 1st Ave N, Seattle


By Rachel Anne Seymour, JFS Marketing & Communications Coordinator