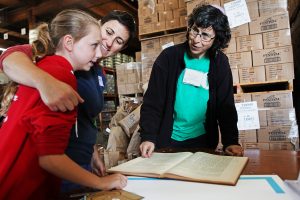 Dignity is foundational to how JFS provides its services. Honoring the dignity, or kavod, of each individual is also at the heart of the opportunities educator Beth Huppin provides as Director of Project Kavod/Dignity at Jewish Family Service.
"Project Kavod is really about helping people connect not only to the what of JFS but also the why in a Jewish context," CEO Will Berkovitz said. "We are grateful for support The Covenant Foundation has provided Project Kavod since 2015 and this year's additional funding. And, we're delighted Beth's exceptional teaching has also been recognized through The Fellowship in Educating for Applied Jewish Wisdom at Jewish Theological Seminary (JTS)."
The current Covenant Foundation grant is to expand and extend the reach of JFS to the greater community and firmly establish the organization as a center for learning around issues of civic commitment, social change and caring for your community, according to Huppin.
"The goal is to bring the values of JFS into the community rather than wait until they come to us," she explained. "In this way, we hope to help the community better understand the needs of JFS clients, and through relevant Jewish learning, understand how they can meaningfully support the work of JFS. "We also hope to help the community better understand the services we offer so they will come to us for support for themselves or their friends and loved ones."
"I can't say enough about what Beth does for JFS and the community," said Carol Sidell, JFS Board Member. "Her events are accessible, focused and insightful. Having the opportunity to participate in her discussions is a gift. Her teachings solidify what JFS is all about."
While the work of Huppin and Project Kavod/Dignity help bring awareness to the community, Huppin also supports JFS staff to better serve clients.
"My work with clients benefits so much from working with Beth and having access to her knowledge," explained Clinical Therapist Danica Bornstein. "Many of my clients appreciate a cultural, spiritual and textual connection to Judaism inside of our healing work. I have enough Jewish education and knowledge to have ideas, but I don't have access to or knowledge of texts that support and deepen the Jewish dimension of our work. When I have these ideas, I reach out to Beth."
Check the JFS calendar to see upcoming events, such as Exploring Dignity, with Huppin and Project Kavod/Dignity.