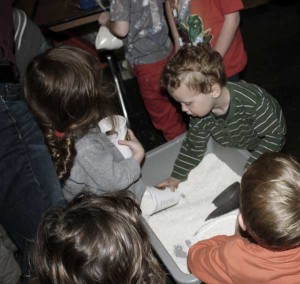 In our work at JFS, we often think about how to explain the issues our clients face to children. With the Food Drive and Food Sort  quickly approaching, this question came up again. How can we help our young volunteers understand concepts like hunger and food insecurity? They proudly come to the Food Sort, drop off the groceries they collected, fill bags with rice, sort donations and box canned goods for storage. We share information about the community's need – about how food donated through the Community-Wide Food Drive lasts less than one month and that the Polack Food Bank serves over 1,300 households every month. These concepts are often hard for grown-up minds to comprehend. So what can we do to make these ideas more tangible for young people?
Like most people, I turned to Google and found I was most interested in mom blogger Chelsea Lee Smith's hands-on approach. In her post "5 Activities to Teach Preschoolers About Hunger," she suggests a series of projects to help make these issues more vivid for children. Here are some of her ideas:
Trip to the Grocery Store to Learn About Food Finances – Awareness
On this day when we parked in front of our local supermarket, I turned around and told the boys I had a special experiment for them. I explained they had $5 to buy lunch (together): we would look at different foods to see what options they had and I would help them figure out if they had enough money. Through this activity I hoped they would learn how important money is for getting food every day (if you don't have your own garden, of course).
First we stopped by a cafe on our way to the grocery store, and looked at the prices of the items there. The boys quickly discovered how expensive even one piece of pie was (almost their whole budget for lunch) so we kept going. We looked at many options in the grocery store, and finally they decided how to use up their $5. We talked about eating on a budget and how many children do not even have $5 to eat lunch every day, and that some families have less money to feed the whole family three meals a day.
Then we talked about how we can find ways to share with the children who do not have the same foods as we do, and how donating money so people can buy enough food is just one way to help. I think this activity gave the kids some awareness for how blessed they are to have food every day; and hopefully more understanding about how others are living in very challenging situations.
Donating Money Not Spent on Restaurant Meal – Sacrifice
I figured one very important element of our Hunger Action Month activities this year would also be finding a concrete way to support the children who are hungry. There are many ways to do this, but due to practical reasons this year we chose to support the cause financially.
So I explained to the boys that on this day, instead of going out to eat at one of our favorite restaurants we would add up the money we would have spent there, eat at home, and donate what we "saved" to No Kid Hungry. We made a simple budget dinner at home and made our donation online. By sacrificing one meal out, our family helped feed a few children. It was quite empowering… and yet easy at the same time.
To see Chelsea's complete list, visit the original post here. We'd love to hear how you explain issues like hunger and homelessness to your children. Leave us a comment with your ideas.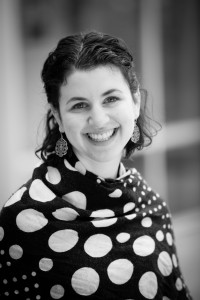 By Jenelle Birnbaum
Violinist, hiker and all-around arts nerd Jenelle Birnbaum is the Marketing Coordinator at JFS. Outside of that, she enjoys speaking French and vegan cooking.