By Leslie Sugiura, Director of Volunteer Services
As we continue to safely social distance during the COVID-19 pandemic, we've compiled a list of creative ways to make a difference with projects that support those who need it most in our community. Please choose from one of the projects below or contact Volunteer Services to create your own. DIY (do it yourself) volunteer ideas make for great b'nai mitzvah projects, too!
Host your own mini food drive. The Polack Food Bank is committed to ensuring access to healthy, nutritious food for our most vulnerable neighbors. Like many other local food banks right now, supply chain challenges significantly impact our ability to procure food. These smaller drives will give our food bank a more secure way to keep its shelves full each month. We would like to invite you to join us in this exciting new capacity! Please sign up here.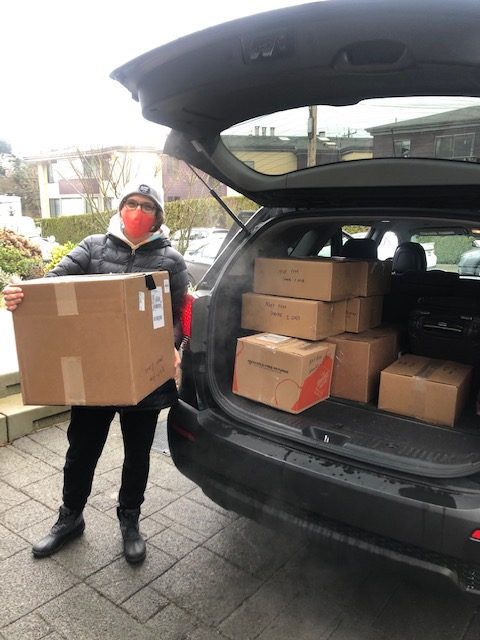 Create holiday cards. During this time of social isolation, facilitating human connection in a safe way is so important to many in our community. JFS volunteers will be delivering holiday baskets to clients for Purim and again for Passover this year (sign up here to help make these contactless deliveries!) As in past years, we would again like to include personalized holiday cards in each basket. This special touch shows recipients that someone is thinking of them and adds a colorful addition to the delivery.
Collect items to donate! Warm coats, socks and gloves are needed across the community during the rainy and cold Seattle winter months. Help keep community members warm with these small but meaningful items. Adult sizes needed. For health and safety reasons and to respect the dignity of the people we serve, we can only accept new items. Thank you for understanding and respecting how important this is.
Make basic needs kits for unsheltered clients. Fill a quart-size freezer bag with prepared foods such as ramen and cracker packs, hand warmers and tissues. Drop them off at JFS to be distributed through the Polack Food Bank.
Make your own tzedakah box. Decorate an empty box and place it somewhere you will see it often, and fill it with spare change. When you've filled it up, donate the money you've saved to JFS.
Contact Volunteer Services at (206) 861-3155 for any of the above projects or to arrange for your own DIY project today!