This week, President Zelensky of Ukraine pleaded with Jews around the world not to remain silent. As a Jew whose family was killed by Nazis, he spoke to all of us: "Nazism is born in silence. So shout about the killings of civilians. Shout about the killings of Ukrainians." It's been only days since the Russian invasion of Ukraine and we continue to watch in sadness and horror as tens of thousands of Ukrainians, Jewish and non-Jewish alike, hide in bunkers, say good-bye to loved ones who travel to fight on the frontlines, and flee by any means their homes and their country.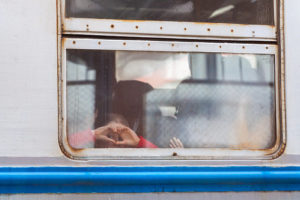 As the only local Jewish resettlement agency in Washington state, JFS has been an outstretched hand to our Ukrainian friends and family members for over 50 years, welcoming them to the United States, and supporting them as they embark upon a new life in our Puget Sound Region.   
We don't – and can't – do this alone. You are our partners every step of the way. With your help, JFS will continue to be a light in the darkness for Ukrainian Jews. Will you help us welcome and resettle Ukrainian refugees to the United States, as so many of our families were once refugees to this country?  
As we shared in our message on Ukraine to the community, no one knows for certain what the coming days, weeks, and months will bring. We are learning new information minute by minute and are continuing to monitor the situation through our partner, HIAS (formerly known as the Hebrew Immigrant Aid Society). We remain committed to serving the Ukrainian community (both Jewish and non-Jewish alike) as we have done for more than 50 years. 
Here are 4 concrete ways you can help support Ukrainian Jews and non-Jews right now: