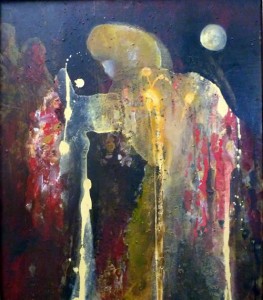 On October 24th, a dozen local rabbis collaborated with Project DVORA to speak to their congregations about domestic violence on Shabbat Lech Lecha. The participating congregations included denominations from across the spectrum of Jewish practice and communities throughout the Puget Sound region. Here are excerpts from some of the remarks that were delivered.
From Rabbi Jessica Yarkin of Herzl-Ner Tamid
"The story needs to be heard, we need not be ashamed, and just because the term domestic violence did not exist back then, doesn't mean the situation didn't exist. If we can speak of [the parsha's] characters in the light of this concept, we help make domestic abuse "Jewish" and take away the taboo of even talking about it.
Awareness of this issue is the key, and we can see ourselves in this story. Perhaps we are Abraham and we see, but let this violence continue. Perhaps we are Sarah, and we lash out and hurt others. Perhaps we are Hagar or Ishmael and are diminished, vulnerable, and powerless and need help. Perhaps we are the angel in the desert who protects Hagar, offers aid and delivers the message of hope – or can put the victim in contact with Project DVORA and other organizations."
From Rabbi Ben Hassan of Sephardic Bikur Holim
"Relationships that are not healthy are based on power and control, not equality and respect. In the early stages of an abusive relationship, you may not think the unhealthy behaviors are a big deal. However, possessiveness, insults, jealous accusations, yelling, humiliation, pushing or other negative, abusive behaviors, are — at their root — exertions of power and control. If you think your relationship is unhealthy, it's important to think about it. Consider these points as you move forward:
Understand that a person can only change if they want to. You can't force your partner to alter their behavior if they don't believe they're wrong.
Focus on your own needs. Are you taking care of yourself? Your wellness is always important. Watch your stress levels, take time to be with friends, get enough sleep. If you find that your relationship is draining you, consider ending it.
Connect with your support systems. Often, abusers try to isolate their partners. Talk to your friends, family members to make sure you're getting the emotional support you need."
Rabbi Jill Borodin of Congregation Beth Shalom
"I considered the parsha through the lens of domestic violence. I spoke about how Abram places his wife in a precarious situation with the king by having her lie about being his sister. I considered Sarah's treatment of Hagar, Abraham's knowledge of that treatment and his acceptance of it. Hagar flees twice, which is notable, since it is common that victims of domestic violence need to try to leave more than once."
Oren Nachman at Minyan Ohr Chadash
"When encountering someone in difficult situations we often counsel "just leave," while forgetting that in reality, this is the hardest step. We would do well to remember the fragile state of existence victims find themselves in, and be there to offer a supportive hand. We should assist our friends and community members with transitions, helping them take baby steps such as seeking counseling, or group support sessions and building up towards more drastic methods. We need to be willing to help out in any way possible – be it financially, reminders to call 911, assisting with temporary accommodations – or sometimes even just an understanding shoulder to cry on. These are all first steps that help a victim progress through their stages of grief during their quest for resolution."
By Deb Frockt
Deb Frockt is Director of Marketing & Communications. She enjoys baking, beaching and learning about golf, both kinds of football, fashion and pop music from her husband and sons.
Feature image © 2015 Yoram Raanan.