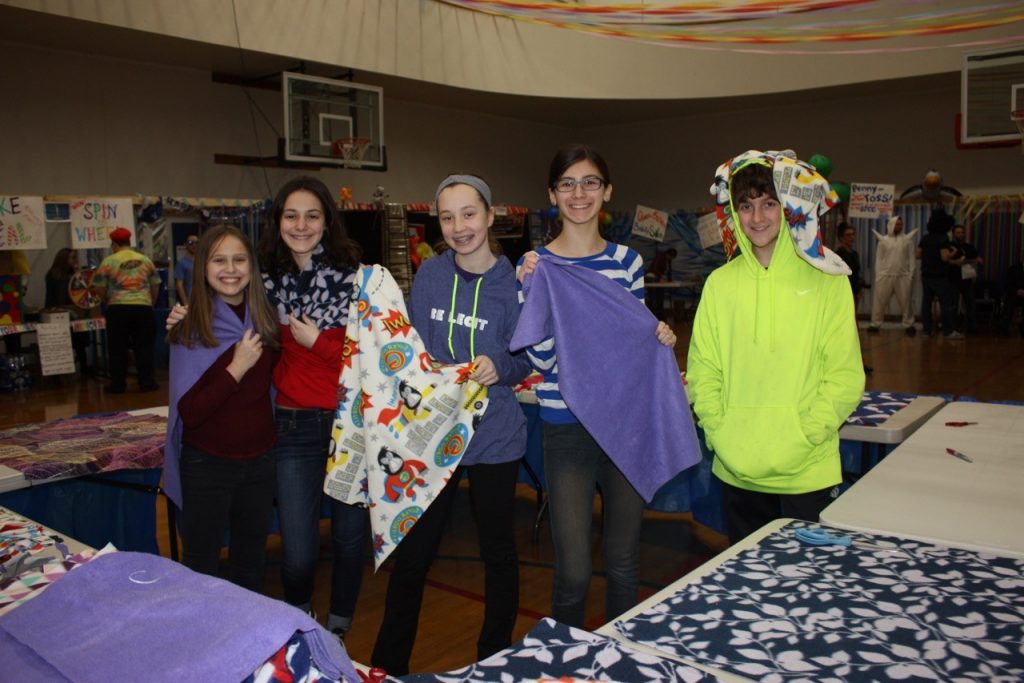 Paige Fisher knotted together edges of fleece blankets for refugee children in March as she listened to music, ate pizza and hung out with friends.
Not long after, the teens volunteered to make pillows in a similar style at the Stroum Jewish Community Center's (SJCC) Purim Carnival.
Both philanthropy projects — blankets for child refugees and pillows for kids in crisis — were created by local teens for other children in the area.
These projects came out of an idea Paige, 14, had to connect friends and philanthropy. The teenage group is now known as the sixthirTEENS, which stands for the 613 mitzvahs in the Torah.
While other groups, including sports teams, have called themselves the sixthirteens, this group is mitzvah-based, noted Paige's mother, Kim Fisher. Its primary purpose, unlike a sports team, is to participate in community service.
Paige's idea for the group came after she volunteered at several events geared toward families with young children. Following the events, she realized she wanted something more aligned with her age group.
"I wanted to be more hands-on and volunteer with my friends," Paige said. "It was difficult to find opportunities that were fun to participate in and didn't require parent involvement."
She turned to her friends, and they organized a planning party with JFS.
About a half-dozen teens bought and bagged 475 pounds of beans — from kidney beans to black beans — for the JFS Polack Food Bank, as they brainstormed other volunteer ideas.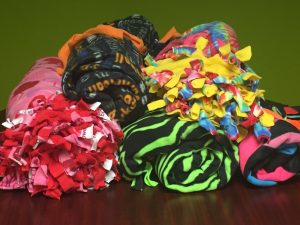 The group came up with flexible, one-time activities that don't require a lot of adult supervision, like knot blankets and pillows where no sewing is required.
Some volunteer ideas the sixthirTEENS have for the future include packaging care bags for people experiencing homelessness, which can be easily carried and handed out to those in need. They talked about a children's sports equipment drive so more kids can have access to the gear needed to participate. They have also discussed multi-generational opportunities with assisted living and nursing homes.
"When these kids started to think about philanthropy from a teenager's perspective, the possibilities were numerous and, at times, seemed overwhelming. But, the energy and excitement that teens have creates a can-do attitude that is contagious," Kim said.
Now, the sixthirTEENS are working with the SJCC to create monthly philanthropic activities that work with a teen's busy schedule of school, after-school activities, family time and friends.
According to Kim, there are plenty of other teens looking for more age-appropriate volunteer opportunities, like the sixthirTEENS.
"This allows volunteers to work alongside new friends and old, while benefiting their community," Kim said. "And it seems like this will encourage a lifetime commitment to philanthropy."
And it's a type of philanthropy teens can wrap their heads (and hands) around.
"They can't always understand the impact of big auctions or fundraising initiatives," Kim said. "The benefit isn't as tangible as hand-on projects."
Tangible projects — like the knot blankets for child refugees resettled by JFS —– make volunteer activities easier and more meaningful for teens.
While JFS helps refugees secure housing, jobs and basic necessities, the sixthirTEENS wanted to do more to make child refugees feel welcome.
Paige explained that receiving a blanket "would make me feel like people cared about me."
And caring about her community, as much as she does her friends, is what lead Paige to the sixthirTEENS.
Any Jewish teen interested in joining or volunteering with the sixthirTEENS can contact Danniell Nadiv with the SJCC.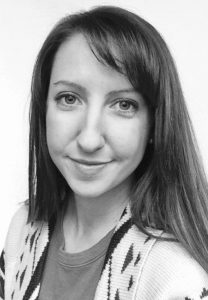 By Rachel Anne Seymour
Rachel is a trail-running dog owner and the Marketing and Communication Coordinator for JFS. She has previously worked as a multimedia journalist for newspapers throughout the Midwest and Western Washington.