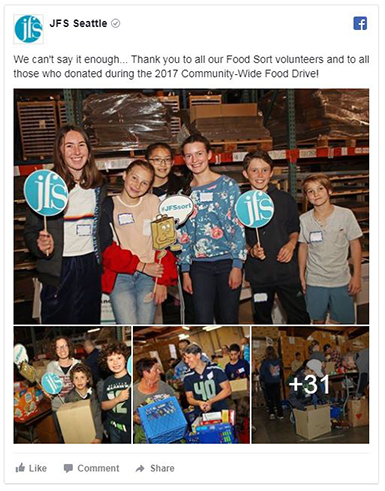 Thanks to our generous community, more than 300 volunteers and staff sorted, boxed and organized about 25,000 pounds — more than 1,650 grocery bags — of food and toiletries during the 2017 Community-Wide Food Sort on October 1!
Your donations will help feed and support around 1,300 households who turn to the JFS Polack Food Bank each month. Because of you, we're able to provide an onsite consumer-choice experience; a monthly Kosher Food Bank; cooking classes for low-income individuals; customized grocery delivery to homebound elders and people with disabilities; and, a monthly Eastside Food Bank for seniors who emigrated from the former Soviet Union.
Together, we help older adults like Jean, as well as working families struggling to make ends meet as the cost of living in Seattle continues to rise. "I know it's high quality, but it's impossible to buy on my budget," Jean said about her groceries from JFS. "Having this really healthy food here is a tremendous help."
As we celebrate 125 years of service, it is clear this community's commitment has always been, and will always be, the soul of our work — thank you!
Please remember, the Food Bank accepts donations year-round to ensure vulnerable individuals and families have access to healthy, nutritious food in a manner that honors their dignity. You can also find ideas from Beth Huppin, Director of Project Kavod/Dignity, about how to turn awareness into action throughout the year.
Save the dates!
Family Volunteering With JFS