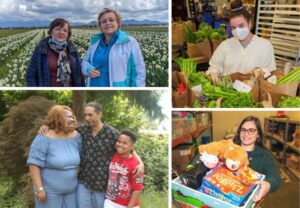 The end of year gives us the chance to take a breath, reflect on all we have accomplished, and look ahead with a renewed commitment to creating the world we want to see.
This past year has been a challenge, particularly for those affected by the difficult economy, domestic violence, isolation, and global instability—people who turn to JFS for help. But with your support, we were able to reach nearly 5,000 people with the help they needed to overcome these challenges and to build health and stability in their lives.
Thanks to you: 
627 isolated older adults, including 188 Holocaust Survivors, were connected to programs and services to feel included and supported.
1,398 refugees and immigrants started new lives

in the Puget Sound region, including asylum seekers, survivors of sex and labor trafficking, and unaccompanied minors.

Families and individuals ate healthy meals, thanks to 15,802 visits to the Polack Food Bank.
1,348 neighbors were able to stay in their homes and avoid eviction.
As one food bank client shared, "I don't think we would have survived without your help with food and non-judgment. My heart and life are softer because of you."
However, as the economy continues to struggle, inflation rises, and global instability persists, it is now more important than ever to connect people in crisis with the support and resources they need to improve their lives and situations. Will you join us in helping our neighbors who face these challenges? Together, we can turn our values into action and create the world we want to see.