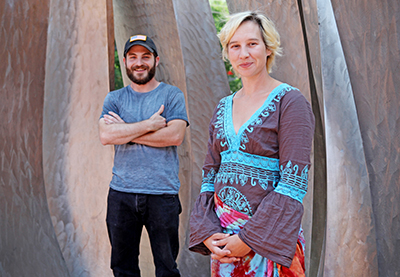 Ever wonder who turns to the Polack Food Bank to help put food on the table? Take a minute and draw that mental picture in your mind. Now, meet Tiffany.
She's a 33-year-old single mother of three who served two Army tours of duty — one in Iraq's Diyala Province in 2010, the other in Afghanistan's Kandahar Province in 2012. Today, Tiffany is a full-time Seattle Central College (SCC) student, has a work-study job as a Veteran Peer Support Specialist and contributes her time to the Veterans of Foreign Wars. And, she's both a client of and volunteer for the Polack Food Bank.
"Veterans are horrible about taking care of themselves. They're food insecure and time insecure," Tiffany noted and then continued, "Is time insecure a thing? Time insecure should be a thing."
Food insecurity is definitely a thing among college students, and the Wisconsin HOPE Lab's "Still Hungry and Homeless" report bears this out. The report notes that 36 percent of university students described themselves as food insecure in the 30 days preceding the survey.
Even before the 2018 report was published, Polack Food Bank staff had begun outreach to SCC to understand the needs of its student body and ways in which JFS resources could benefit this neighborhood population.
Food Bank Manager Esther Magasis got connected with SCC's Veterans Services and in conversation with three staff there — Kerry Holfield, William Schwab and Yuval Peled-Schwartz — it became clear that, among veterans who had returned to school at SCC, there was both the need for food as well as significant obstacles to accessing JFS Food Bank resources.
Tiffany put those barriers into real terms when she explained, "One of the biggest hiccups in the system of services is showing up between blank hour and blank hour …. And, it's hard to make it anywhere else besides school. When you're at school, you basically just live there."
Thinking and planning progressed with Kerry, William and Yuval, an Israeli Defense Forces veteran who is now the Polack Food Bank Inventory & Home Delivery Assistant. In addition to the logistical challenges, Esther wanted to understand what other obstacles were keeping student veterans from the Food Bank. Yuval explained that, "Most people who served at some point in their life were, through basic training, taught to be self-sufficient."
Time, location and the stigma of seeking help — especially from outside the tight-knit community of veterans — were the impediments. But, they were, by no means, insurmountable. Tiffany, Yuval and Esther began sketching out ways to get food to campus and, literally and figuratively, meet people where they were.
Today, the Polack Food Bank serves student veterans and their families with a food pantry located at the SCC Veterans Services office. Vets are invited to make their own selections and pack bags they can take home. There are also "grab and go" options for hungry students to get the calories they need during long days at school.
As with the onsite Food Bank at JFS, SCC pantry bags are available on the consumer-choice shopping model to respect the dignity of the people being served. They are customizable, so people can access healthy food that fits their individual and family needs, including dietary restrictions, access to cooking facilities and other preferences.
For Tiffany and her young family, this is a huge win. Her household grows some of its own produce, and she clearly articulates the connection between healthy food and health outcomes, "I don't want my kids to be sick, and I don't want them to be malnourished just because we're poor."
Tiffany values the quality of product available in the JFS-supplied food pantry. Even though most products are non-perishable, the pantry is built around whole foods, avoids processed selections and limits items that are high in sugar. Tiffany plainly states why this matters, "I'm not going to give my kids a lot of donuts because they'll end up with diabetes."
In her role as Veteran Peer Support Specialist, Tiffany sees the value of the pantry for those who would otherwise be unlikely to get the extra food they need to have the energy to study, work and take care of their families.
"It's awesome, our food pantry at the school, because it gives me the opportunity to say yay! Something I can eat right now. Or, hey, our food stamps don't come until later in the month, so I can fill up a bag and just fill out the form… and, then I can grab what I need, and I can actually tailor it to me.
"And there's no stigma. At our school, we're like, if you're hungry, eat. If you need food, we will find you food. Because food security should be for everyone."
By Deb Frockt
.