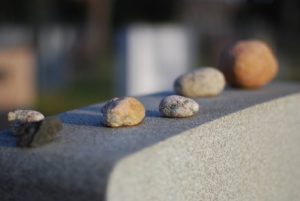 The heart-wrenching call came from a man whose mother had died unexpectedly. He said his family wanted a traditional Jewish burial for her. He also said there was no other option for the observant family, but there was no way to pay for the service, as his mother had lived on a tiny fixed income. With nowhere else to turn, he called Carol Mullin at Jewish Family Service.
When Mullin took the call, she gave the man and his family hope. She let him know about the Jewish Community Cooperative Funeral and Burial Program, which covers much of the costs of traditional Jewish burials in the Puget Sound Jewish community for observant families who lack the means to pay for them.
The program is a partnership of the Jewish Federation of Greater Seattle, Jewish Family Service, the Seattle Jewish Chapel, and local Jewish cemeteries, including Herzl Memorial Park in Shoreline, Machzikay Hadath Cemetery in North Seattle, Congregation Beth Shalom's cemetery in Brier, and, until recently, the Seattle Sephardic Brotherhood Cemetery in Shoreline.
The impetus for the program was the resettling of Jews from the former Soviet Union in the Puget Sound region. "Many had very few resources, they had very low incomes, but for them, there was no option but a traditional Jewish burial," says Mullin, JFS's Emergency Services Director. Since 2005, the number of families making use of the service has ranged from three to nine per year.
Family needs are assessed by JFS. The Seattle Jewish Chapel, also known as Chevra Kadisha, is a full-service funeral home. The chapel and the cemeteries offer their services at a "significantly discounted rate," which can reduce the cost by approximately 80 percent, Mullin says. If families cannot afford the balance, the Federation steps in to cover the cost.
There are good reasons the Federation funding backup is necessary. "When you live on $800 a month, and when every penny goes to food and rent, you can't set aside $40 or $50 a month for funeral costs. These are extremely low-income people who have roots in our Jewish community," Mullin says.
In some cases, individuals have no family. "We hear [about a death] from nursing home staff or from someone who has power of attorney," Mullin says. The chapel and cemeteries provide help in other ways — finding rabbis available for graveside services or assembling minyans. "It's one of those little miracles," she says.
Families in need hear about the program in a variety of ways. They might have been past or present users of JFS Emergency Services. The Seattle Jewish Chapel is another source. "Many local rabbis know about the program," Mullin says. The "cooperative spirit" among the partners is critical to making sure families in need receive a helping hand to give their departed loved ones a traditional Jewish burial, she notes. "We appreciate the Fed stepping up."
By Jim DiPeso
Jim is Editor & Writer for the Jewish Federation of Greater Seattle. He has been with the Federation four years and has worked in non-profit communications since 1990. This piece originally appeared in the December/January 2016-2017 issue of "Jewish in Seattle."