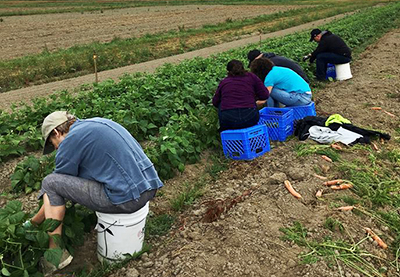 Looking for fall volunteering opportunities? JFS can use your help with the following events and supportive opportunities that directly benefit our clients and community.
Contact Volunteer Services today to begin the process and find the fall volunteering that's right for you!
Please note that openings and needs may change with time.
Make Centerpiece Baskets
Weekdays During Business Hours
Create attractive centerpieces for community members to rent for special occasions. These displays of faux fruits, vegetables or non-perishable items help raise money for the Polack Food Bank.
Supportive Living Services Picnic
Sunday, September 30
11:00 a.m. – 2:00 p.m.
Lend a helping hand with this annual tradition for Supportive Living Services clients, family and friends. Supportive Living Services helps people with cognitive disabilities live as independently as possible at the highest quality of life.
Farm Gleaning
Fridays, 10:00 a.m. – noon
We need volunteers to help gather produce at Oxbow Farm & Conservation Center on Friday, September 28. Gleaned items go to the Polack Food Bank.
Food Delivery
Prepare bags of food and toiletries at the Polack Food Bank and deliver them to homebound clients. Shifts are available:
Weekdays, 9:00 a.m. – 6:00 p.m.
Second Sundays of each month, 10:00 a.m. – noon or 1:00 – 2:30 p.m.
Fourth Sundays of each month, 10:00 a.m. – noon.
Available neighborhood routes include:
Bellevue/Crossroads
Belltown
Capitol Hill
South Lake Union
Food Sort
Sunday, September 30
10:30 a.m. – 12:30 p.m.
Volunteer to help sort and organize thousands of pounds of donations from the JFS Community-Wide Food Drive. All donations will go to help people in the Puget Sound region who count on the Polack Food Bank.
National Refugee Shabbat & JFS Coat Drive
October 19 – 20
National Refugee Shabbat is a moment for the community to create a Shabbat, or other meaningful experiences, dedicated to refugees. JFS is coordinating with HIAS on this effort and is asking you to donate winter coats for resettled refugees and others JFS serves.
Families Fight Hunger
Sunday, November 4
1:00 – 3:00 p.m.Volunteer to support our Polack Food Bank clients by packaging food, creating personal kits, writing cards and advocating for important issues. In addition to hands-on volunteering and advocacy, this event includes an exploration of values that guide the work of JFS.
Contact Volunteer Services for more information.
DEEPEN YOUR EXPERIENCE
Exploring Dignity: What Exactly IS Dignity?
Thursday, October 18
Noon – 1:00 p.m.
Dignity is complex and can have many meanings. Beth Huppin, Director of Project Kavod/Dignity, will lead this text-based discussion about the contemporary connections between the work of JFS and the meaning — and practice — of dignity.
"Crime After Crime" Film Screening and Panel
Thursday, October 25
7:00 – 9:30 p.m.
This Sundance Film Festival documentary demonstrates the troubling intersection of domestic violence and the justice system. A discussion with local experts and an attorney from the film will take place after the screening.