The 2019 JFS Community-Wide Food Drive and Food Sort is complete! Thank you to everyone who donated food during the month-long Food Drive and the 350 volunteers who donated time at the Food Sort! Together, our generous community donated, organized, boxed, and sorted over 2,000 bags of food for the Polack Food Bank.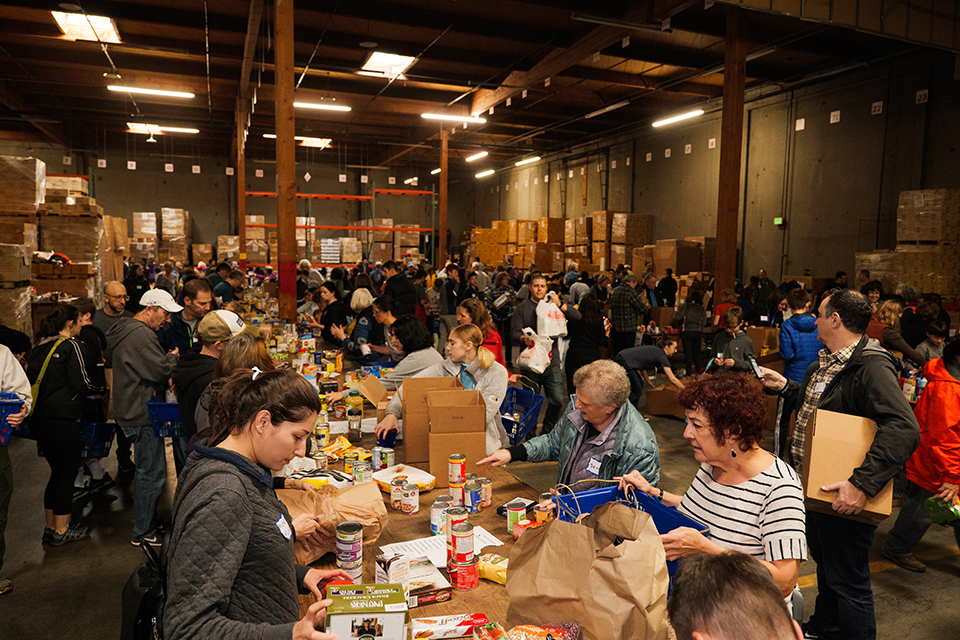 Food insecurity—which affects 327,998 households in Washington state—is not solved overnight, but rather one step at a time. The Food Drive and Sort is one way our community helps fight food insecurity and ensures those in need have enough healthy food to eat. The need is great. The Polack Food Bank serves over 1,300 households each month. The food collected during this year's Food Drive is enough to feed and support these households for just one month. JFS is grateful for Food Bank donations all year round.
At this year's Food Sort, we debuted a brand-new educational area, which featured "High, Low, Thanks but No," an interactive game for both kids and adults that teaches participants about the specific types of food our community relies on, such as kasha and rice noodles, and what types of Food Bank donations are most helpful. Curious? Download the game and quiz yourself!
A quote from Rabbi Solomon Aderet (1235 – 1310) states that, "Each person should be provided according to their need…each one should be provided according to their honor." With the dedication of our community, we honor our neighbors in need with the dignity and respect they deserve—while doing our part to stamp out food insecurity.
View photos from the 2019 Food Sort and learn more about our extended evening hours at the Polack Food Bank!