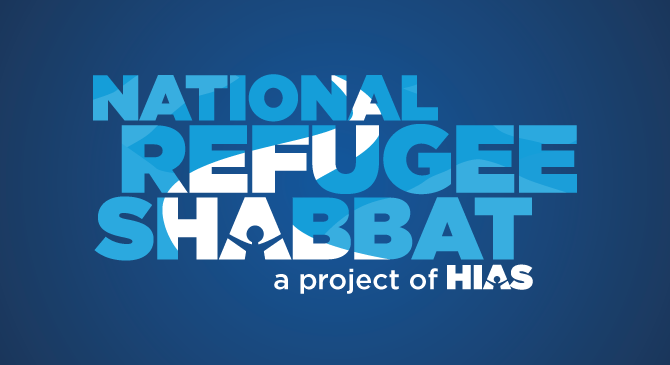 HIAS Refugee Shabbat 5780, which will take place on March 20-21, 2020, is a moment for congregations, organizations, and individuals around the country to dedicate a Shabbat experience to refugees and asylum seekers. This special Shabbat has even gone international with communities in Canada, Europe, and around the world taking part. In observance of this important movement, we've compiled a list of events from our community partners that are taking place locally.
We hope you're able to attend one or more of these! Thank you for your participation in raising awareness among our community and beyond. If you'd like to explore other ways to get involved, our Refugee & Immigrant Services department has several volunteering opportunities year-round.
A note about COVID-19: Along with our community partners, we are adhering to guidelines around social distancing. This may mean that the below events will be canceled, postponed or moved to an online format. Please check back on this page regularly for updates. 
HIAS Refugee Shabbat at Temple De Hirsch Sinai
March 20, 5:30 – 7:00 p.m.
Join Temple De Hirsch Sinai (in Seattle) for a special Shabbat service including two teen students at The Seattle World School who will be sharing stories of their own recent immigration journeys to this country.
National Refugee Shabbat 5780 at Herzl-Ner Tamid
March 21, 10:00 a.m. – 1:30 p.m. 
In the course of Jewish history, Jews have often been refugees who faced and overcame great hardships to create new lives in other lands. On this Shabbat, Jews across the entire country will commemorate our past and discuss critical issues pertaining to modern-day refugees. During services, Rav Barry will talk about Jewish perspectives and values which inform our actions around the challenges refugees face today.
Talya Gillman, Outreach & Education Manager at Jewish Family Service, will discuss refugee resettlement, experiences, and services in a local context. Lunch and a lively discussion follow services at 12:30 p.m. Join us to hear about the global refugee crisis and learn through a Jewish lens why we must strive to make a difference in the lives of refugees in our own community. For full details and schedule, please visit HNT's website above.
Community Learning Day with Kadima: Migrants Are Human
March 21, 9:30 a.m. – 12:00 p.m.
 In honor of this year's HIAS Refugee Shabbat, Kadima's Immigration Justice Committee will host an interview with Dany, a Salvadoran asylum recipient who is supported by Kadima members. Learn about what caused him to flee to the U.S. and what life is like as he gains health and stability and applies for permanent legal residency. Hear from Kadima members who have provided support, English conversation, accompaniment to appointments, housing and more. Learn how you can support migrants in our community.
For full details and schedule, please visit the Facebook event above.