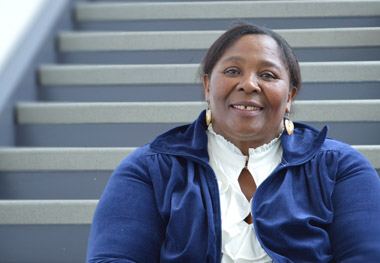 Home care is about people – those who need it and those who give it. That's why Care Solutions by JFS is as focused on who it hires to provide in home-services as it is on the clients and families served.
Monica Waweru has been a home care aide with Care Solutions for six years. Born and raised in Kenya, Monica had a 24-year career as a primary school teacher before immigrating to California. While there, she earned a sociology degree and several professional certifications.
"Monica's skills and work ethic are clear from her accomplishments. But it's her warmth and empathy that make Monica the kind of caregiver we think our clients deserve in their homes and their lives," said Don Armstrong, Director of Care Solutions.
We asked Waweru to answer a few questions for us.
What do you enjoy about your work?
I like to help older people achieve their potential. It gives me joy to see them achieving that.
What do you do for fun outside of work?
I like to cook, knit and shop.
What do you think a 25-year-old might find surprising about the life of an 85-year old?
A 25-year-old may have been raised by the 85-year-old — many children are raised by their grandparents — and may look up to the older person as strong and smart. Then suddenly their lives change, and it is the younger person taking care of the older person, perhaps even changing their diapers — just as the older person once did for him or her.
Is there a saying about aging that is meaningful to you?
"Treat the elderly as you would like to be treated when you are that age. I carry this around inside me when I work."
By Deb Frockt
Deb Frockt is Director of Marketing & Communications. She enjoys baking, beaching and learning about golf, both kinds of football, fashion and pop music from her husband and sons.