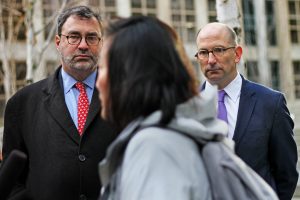 JFS and its lawyers were in federal court Thursday, December 21, arguing on behalf of refugee clients and our ability to serve them now and in the future.
U.S. District Court Judge James Robart heard arguments in response to two different challenges related to the Trump administration's latest attempt to ban refugees.
JFS v. Trump and ACLU of WA v. Trump are two separate lawsuits, but Judge Robart heard arguments at the same time because both are seeking a preliminary injunction to halt implementation of President Trump's most recent executive order on refugees.
You can view the complete, post-hearing press conference here.
The restrictions in the new executive order include a minimum 90-day suspension of admission of refugees from 11 countries, nine of which are predominantly Muslim, and a suspension of the follow-to-join process, which reunites family members with refugees already in the U.S. These restrictions were immediately implemented after the prior suspension on refugee resettlement ordered by President Trump expired October 24.
JFS was founded in 1892 to help Jewish refugees and immigrants fleeing persecution build new lives here. Guided by our values and our own history as a refugee people, resettlement has been part of our story for 125 years. We know from painful experience that when the United States ignores the plight of refugees, innocent lives will be lost. We are proud to be fighting on behalf of our refugee clients who are directly impacted and those who have the most to lose.
By Michele Rosen, Board President, and Rabbi Will Berkovitz, Chief Executive Officer