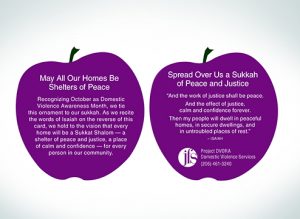 This October, Sukkot once again coincides with Domestic Violence Awareness Month. As many in the Jewish community celebrate in temporary sukkah structures, we ask you to remember those who do not feel safe in their own homes because of domestic violence.
Domestic violence (DV) is a pattern of behavior used by one partner in a relationship to gain or maintain power and control over the other partner. This can include — but is not limited to — physical, emotional, financial and sexual abuse. DV affects all subsets of our community. Last year alone, Project DVORA Domestic Violence Services helped 210 people in our community.
Beginning in October and continuing throughout the year, Jewish Family Service will focus on tzedek/justice, including the impact it has in the realm of domestic violence. Justice is a major issue for those involved in abusive relationships. The justice system can be difficult to navigate for many vulnerable people, including DV survivors. And that system, which is supposed to help victims, is sometimes used against them, continuing the cycle of abuse and isolation.
Synagogues, temples and Jewish organizations have sukkah decorations available to help raise awareness about the connection between domestic violence and justice. You can also print them yourself. Please hang these apples in your sukkah or home during October. We hope these decorations will spark discussion about justice, its relationship to a safe home and the reality of DV in our community.
The sukkah is a temporary refuge, open to the elements. It reminds us that a safe home is not a given for everyone. The sukkah experience should, therefore, open our hearts to compassion and a passion for working towards justice and peace in all our homes.
Coming Spring 2018!
A screening of "Crime After Crime," a documentary about the flawed intersection of domestic violence and the criminal justice system. This film follows the story Debbie Peagler, an incarcerated domestic violence survivor, and the effort to free her after more than two decades in prison. Screening details to come.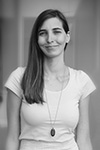 By Liz Coleclough, Director of Project DVORA Domestic Violence Services