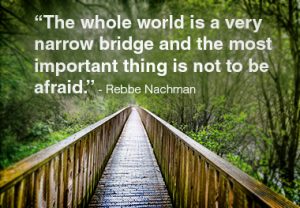 Years ago, a boyfriend was diagnosed with bipolar disorder at nearly 18, and the last thing he was ready to do was acknowledge his diagnosis and need for treatment. While I wanted to be loving and supportive, I had little education on how to do this for someone with a mental illness. I felt alone on a narrow bridge, like no one understood him or me. I was intimidated by his symptoms, and I was conscious of how few skills I had to communicate and interact effectively.
The difficulties of supporting a friend or family member with a mental illness can be heightened by symptoms such as changes in personality and mood, or the loved one simply not wanting or accepting help, according to Rachael Kwong, Director of JFS Supportive Living Services.
To help people navigate and understand this narrow bridge of supporting friends and family with mental illness, JFS and the National Alliance on Mental Illness (NAMI) offer classes on how to achieve this, while maintaining one's own well-being. Facilitators Rabbi Dov Gartenberg and Steve Krom are trained volunteer teachers who also care for family members living with mental illness. They provide information on diagnoses, treatment, medications, communications, crisis preparation, resource sharing, coping skills, problem solving and the collective wisdom of the participants who have real experience caring for loved ones living with mental illness.
As JFS and NAMI specialists know, the circumstances I faced at a young age mirror experiences by others, at all ages, who are trying to support friends and family with mental illnesses. I needed — and so many of us need — resources and support in finding paths forward.
"So many people just don't know what to say or do in supporting loved ones living with mental illness," Kwong said.
"'How do I respond? How do I help?' Without that clarity, we tend to do nothing." Kwong continued. "Without relevant resources and information, we're not going to be able to be there for our loved ones. But a little bit of knowledge goes a long way."
Developing knowledge and tools through the NAMI Family-to-Family class builds a caregiver's confidence in being able to be there in ways necessary for, or with, their loved ones. "In an airplane, you're told to put your own oxygen mask on first, before helping others," Kwong noted. "This class serves as some of that oxygen. So much of this course is about support and reinforcing the feeling that I'm not alone. If others can survive these challenging times, so can I."
The class also addresses some specific Jewish cultural issues that families experience, which can foster a unique sense of connection, familiarity, affirmation and hope among participants.
"Mental illness is a family illness," Gartenberg said. "The impact of a person struggling with mental illness sends ripples of anxiety to all those closest to them and beyond."
Register for the NAMI Family-to-Family class with Talya Gillman at (206) 861-8784.
Photo by William Murphy.
By Talya Gillman, JFS Education Coordinator