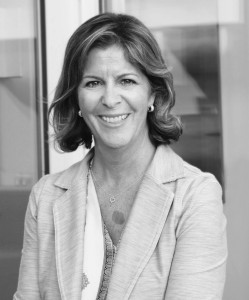 Susie Eastern has always been in the people business, so it's no wonder she was drawn to volunteering with Jewish Family Service. A University of Washington alumna who grew up in Portland, Susie is an executive recruiter who is passionate about helping people achieve their career goals. After more than two decades with the same firm she joined after graduation, Susie opened her own search firm in 2013.
Despite the demands of being an entrepreneurial small-business owner, Susie has continued to prioritize JFS. She began volunteering ten years ago, bringing her business acumen to the marketing committee and doing hands-on work in the Polack Food Bank. In 2008, she felt privileged to join the Board of Directors.
Susie's first interaction with JFS was through counseling when she began her career. "I was just starting out and wanted someone to talk with. The sliding scale made counseling accessible to me at that point in my life. JFS was there for me in a very real way, and now I have the honor of giving back."
Currently in her third Board term, Susie takes pride in the accomplishments of the Family Matters Campaign that expanded the agency's offerings and created its current Capitol Hill campus. Her professional expertise was put to good use on the search committee that hired JFS CEO, Rabbi Will Berkovitz.
In recent years, Susie has been privy to her parents' conversations about estate planning, including the legacy giving they have planned through bequests designated for Jewish community organizations they have supported throughout their lives. It got her thinking, "How am I preparing for that? What are the things I do in my life that have impact? What is the legacy I will leave?"
Legacy giving seemed a natural extension of her commitment to JFS, so Susie designated Jewish Family Service as a beneficiary in her will. "I feel like planning for this gift to JFS is an extension of my values. You don't have to erect a building to offer a statement of what you value most. Anybody has the ability to dedicate a portion of their estate that will say, 'I want to give this gift. This is a part of who I am.'"
Learn more about legacy giving and the JFS Family Tree Legacy Circle.
By Deb Frockt
Deb Frockt is Director of Marketing & Communications. She enjoys baking, beaching and learning about golf, both kinds of football, fashion and pop music from her husband and sons.