When you ask Fatimah* and Sanaz* how they first met, they give the expected response for millennials in love — online. But for these 30-year-old women, only their introduction hews to the expected.
They started chatting eight years ago on an Arabic-language social media site called Dagged. Sanaz was living in Turkey with her parents. Their Baha'i faith put them at risk of persecution in their home country of Iran. As the two got to know each other, Sanaz asked Fatimah for her email, and the conversation moved to a more private setting.
Falling in Love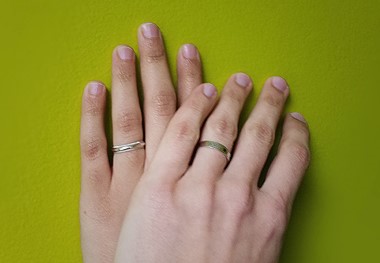 In the JFS Kent office, they laughed and gazed lovingly at each other as they remembered their first in-person meeting. Fatimah brought a chocolate ice cream cake to Sanaz's home, but this gracious gesture did nothing to allay the concerns of Sanaz's mother as soon as she met her daughter's guest.
Fatimah was different. She was an Arabic-speaking Muslim from a prominent family in the country of Oman. Sanaz's Farsi-speaking parents were skeptical of even a platonic friendship between the two young women, so a romantic relationship would have been unthinkable.
Same-sex relationships remain illegal in most of the Middle East, and in some cases, are punishable by imprisonment or other harsh penalties. So despite their different languages, religions, cultures and nationalities, Fatimah and Sanaz both had good reason to be wary of sharing their romantic connection and growing commitment to one another.
Eventually, Fatimah decided to tell her parents she had fallen in love and was staying in Turkey to be with Sanaz. Fatimah's mother responded as expected, deeming the relationship unacceptable. She tried various methods to end things between the women, first promising to be their ally if the couple returned to Oman, then travelling to Turkey to try and persuade her daughter to return home alone.
Torn Apart
When Fatimah refused to leave Sanaz, Fatimah's parents used her father's influence to repatriate her to Oman and arranged for her to be denied re-entry to Turkey. But Fatimah's persistence matched that of her parents. She refused to be dissuaded by the considerable obstacles facing her and fled Oman to return to Sanaz.
The women were desperate for someone to help them overcome the international boundaries and legal barriers separating them. When they turned to outsiders for help, they were twice taken in by scammers who offered only false hope. One claimed to be a lawyer with solutions, but he took Sanaz's money and disappeared. The other posed as a United Nations advocate, but when Fatimah needed his help at passport control, he too vanished.
All told, Fatimah was blocked three separate times from entering Turkey. On her final attempt to reunite with Sanaz, she was held at the airport for 24 hours and was subjected to harsh interrogation and a physically abusive search. The authorities accused her of being a terrorist — they could not understand why she kept returning to Turkey, despite the prohibition. Fatimah defended herself by telling the truth, "I'm just in love. I want to be with my partner."
After that traumatic attempt, the women realized they would never be together if Sanaz remained in Turkey, so they began thinking of other options. While Fatimah's Omani passport afforded her many choices, Sanaz's Iranian passport would only be accepted in a limited number of countries.
Alone Together
They settled on Malayasia, a Muslim country that would accept them both. Once there, they registered with the United Nations High Commission on Refugees. In 2012, the commission rewrote its guidelines to include LGBTQ persecution as a qualifying condition for attaining refugee status. Given the restrictive nature of their home countries and their struggles as a lesbian couple, Sanaz and Fatimah officially became refugees.
And then they began the waiting and hoping period all refugees endure. They spent their days making the trip back and forth to the commission offices for the myriad appointments that are part of the process. It is illegal for refugees to work in Malaysia, so they were without meaningful activity or a timeframe for when they would be resettled. They spent their days walking and walking and walking, through the city, through malls, anywhere just to have something to do.
During this period of seemingly endless waiting, they made an important decision. Fatimah and Sanaz were ready to be married. There would be no marriage license or official ceremony because there would be no government or religious leader who would perform their union. There would be no family or friends who would celebrate their joy because it was just the two of them in this foreign place.
They bought matching rings and without an officiant, without witnesses, without anyone to stop them, Fatimah and Sanaz vowed their love to each other. "It was just us alone together," said Sanaz.
Coming Here, Coming Out
They spent nearly two and a half years in Malaysia until, finally, the news they had been waiting for came. They would be resettled in the U.S. For so long they had wanted to publicly express their love for each other, but it was dangerous, impossible everywhere they had been: in Turkey, in Oman, in Malaysia.
Only after they boarded the plane for SeaTac did their long-awaited dream come to fruition. They could finally be their authentic and complete selves. They could finally, publicly show the world who they were.
"The lady sitting beside us asked, 'Are you sisters?'" explained Sanaz, "And I say, 'No. We are together. We are lesbians. We are partners.'"
Sitting with her beloved close by her side, Fatimah added, "I'm not going to hide it anymore. I'm going to keep saying it."
*Names have been changed for privacy. Fatimah and Sanaz were resettled by JFS in March 2017. They are receiving help from Refugee & Immigrant Services to find employment and acclimate to the Puget Sound region.
By Deb Frockt
Deb Frockt is Director of Marketing & Communications. She enjoys baking, beaching and learning about golf, both kinds of football, fashion and pop music from her husband and sons.