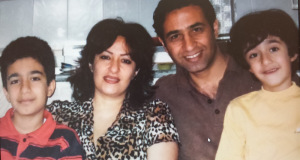 Hear Mitra tell her story in this KUOW interview.
On a hot summer day in a city in the north of Iran, my husband and I decided to move out from Iran after fighting for a long time with a hardship life. After the revolution of Iran, our beliefs prevented us from accessing education or having a successful business in Iran. We decided to leave whatever we had; our loves, family, friends and all belongings. We had a small house which was confiscated by the government, and our small business was suspended. There was no more chance to continue.
My husband couldn't leave the country because of debt responsibilities. I could leave the country with my two kids who were twelve and six years old. I was facing the hard moment in the train station which was to say goodbye to all that I loved. My mom kissed my forehead and asked me to pray when I get in the train and forget the past and just look forward for a better life. My dad hugged me and said in my ear that he would do his best to send my husband to us. My husband was looking with eyes which you could not figure out what he was imagining – maybe some good future or maybe no more chance to see his wife and his kids. My lovely sisters with tired eyes smiled at me and wished me the best. I did not know if I would have a chance to see them again.
We arrived at a small house in Turkey, and the kids and I started our new life. We needed to use coal to warm the house. I had a big men's bicycle which was my transportation. Every day in the early morning, I went to the police station to sign and report that I did not leave the city. Then I went shopping on the bicycle. Very soon I started to work in a laundry. My older son took care of my younger son, and I worked eight hours every day. Unbelievably, after six months what my father said became true, and my husband came to stay with us. After fifteen months our refugee case was approved, and we came to the U.S.A.
We were a family with no income, which qualified us to have TANF benefits. We were referred to JFS to do a job search and start ESL classes. At JFS, I asked for a volunteer job, and the manager accepted me to work at the front desk as a volunteer four hours a day. In that same period I started college to learn computer and how to type. After six months, I chose my major – interior design, which was my dream since I was a young child. It was unbelievable for me when I started to study interior design at Bellevue College. After that hardship life, my brain can still learn, and I have a chance to go to college as a student.
JFS was my second college. I learned many things which related to my refugee life, and I feel so good that I can help others who come to the office for help. After one year I was hired by JFS as an employment specialist, and that was a big success for me and my family.
I passed the road which my clients need to pass. I feel their pain, and I tasted their hardship life. I understand when they are hopeless and when they are shocked about their new life. When they come to me for help, I know how to start and give them hope about their new life.
I will be a U.S. citizen in a few months. I will graduate from school very soon. My older son is now studying at college, and he wants to be a dentist. My younger son goes to middle school, and he wants to be a web designer. My husband is a manager assistant in a store. We have our warm and kind life, and we all learned to spend a part of our life to help others. I feel confidence and support from my clients' prayers which they say after I help solve their problems. I believe this is a real support for my kids and my future generations. JFS is my second home, and I appreciate it for all it teaches me.
I believe that for each of us who came as refugee or immigrant to this country, the United States is like a highway. We are a BMW which can go as much as we want, and we can reach as much as we need. We should just believe it.
I am proud of my kids that they understand what a hard situation they handled to reach this life with many opportunities. They never bite into an apple and throw it in the garbage. They don't waste their food, their time or their life. They love their new country and old home country, and they try to learn the best from both. I always bring my life as an example to my clients who lost their hope. I tell them this is true, and they should believe that they can make it.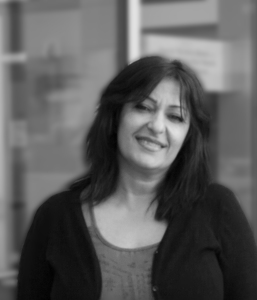 By Mitra Zarakani
Mitra Zarakani is an Employment Specialist for the JFS Refugee & Immigrant Service Centers.