This is the story of Project DVORA client Charlotte Jarvis, in her own words, about escaping an abusive relationship. She attended weekly one-on-one sessions with a program advocate and participated in Project DVORA yoga and writing groups to support her in the healing process.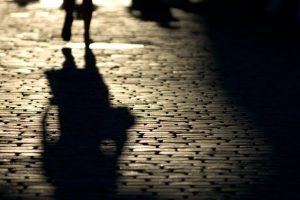 I couldn't hear anything. People said a lot of things. But I just couldn't hear them. I remember the hopelessness in their sighs. The way their eyes managed to hold fear and anger and sadness all together. I remember them whimpering when they would beg me to leave him.
It was as if I'd been staring off into space forever, just sitting and staring, as things happened around me, to me. And slowly I began to come to with three comments tapping me on the shoulder.
I held the phone to my cheek as my hand slightly shook and a voice came in over the signal. It was a woman on the other end at the domestic violence hotline that I had called in desperation. From under her breath she whispered, "He's trying to kill you."
In one breath I started with "I don't even know why I'm here, but…" and trailed off into an uncontrollable sob. When I looked up I saw the face of the group leader, at the support group I had begun to attend in secrecy. Her expression had scared me into silence, and she spoke cautiously. "In California, I think, that's considered attempted murder. That might go into a homicide investigation. There probably won't be a next time. If he does that to you again, you'll be dead."
In a dimly lit office in downtown Oakland, I sat across from a domestic violence advocate. She was looking down at a stack of papers that she was scribbling upon rapidly. She finally glanced up at me sternly and said, "The DEA may pick this up. If you can leave the state, you need to."
I left the Alameda County Family Justice Center that day with paperwork under my arm, clasping my cell phone. I frantically flipped through the statistics. And I stopped to read and reread and reread. Was this real? According to the statistics, I should already be dead.
It took about a week.
About a week to quit two jobs, drop out of school, get rid of nearly everything I owned, break my apartment lease and file endless court documents.
I spent two more nights in my apartment waiting. I sat at my kitchen table, staring out the window. My body was violently shaking as I wondered if I would make it through the night, praying to keep my life.
The sun broke free into the sky that next morning, and I got the call from my bounty hunter that my abuser had been served. I ran to my car with my remaining belongings. I jumped in, started the engine and drove. I drove and drove, hours passing me by until I finally arrived at Joshua Tree National Park. I parked my car, got out and began to climb. Climbing to the top of the highest boulder I could see.
And I laid my body down.
The sun began to bathe me, gliding over my ankles, slowly massaging my body, working its way up to my neck. Tracing the wrinkles that had grown on my face, my tired face. Tears began to stream from the corners of my eyes. And for the first time in what felt like forever, my body was free and safe. I had really made it out. I had escaped.

How did I get here, I wondered? How did this become my life?
How did I fall in love, and in the blink of an eye, I'm running for my life? Voices began to waver through my mind. It wasn't just the "Why don't you just leave?" or the "Why do you keep going back?" or even the "Why do you give him the power?" that bothered me.
I knew they could never understand.
It was the "I never imagined you," that had locked inside my brain.
"I never imagined you would get into an abusive relationship."
Why? I wondered. Why was this so hard to believe? Because I'm a feminist? Because my mom is a feminist? Because I'm a middle class white woman? Because I'm college educated?
Because I grew up in what some consider a "normal" home, domestic-violence free, with a present father figure? What was it about me that made it so strange that I became a victim of domestic violence?
"I never imagined you would get into an abusive relationship."
Something must be wrong with me. This must be my fault. I should have known better. I had disappointed them. They expected more from me. They never thought I would be so weak.
But as the sun soaked my body, anger and resentment began to climb the walls of my chest and my face became engulfed in a fire of rage.
How could they not see what had happened to me? How could they not see I was hit by a train?
That this hit me like a bag of bricks. How could they be so oblivious? How could they not understand?
I was unprepared to deal with an abuser.
No one falls in love assuming it will end like this. Assuming it will flip their whole life upside down. Assuming they will have to change everything about their life — their home, their job, their phone number, their email — just to get out of a relationship.
Throughout the next year, I spoke seldom. But when I did interact I spoke to women, and I listened to their words. I began to understand that I wasn't alone at all. There are so many of us.
We are everywhere. So many stories unspoken, so many stories unheard. I began to realize that this silence we are forced into is what made me unprepared.

They say one in three American women will be in an abusive relationship at some point in their life.
This is an epidemic for us. So, why wasn't I educated about this? Why was I so unprepared?
Why wasn't I prepared with tools to identify abusive behavior? Why had all of my wonderful education failed me? Why is this not something we are talking about?
I believe the silence is what made me such an easy target. The silence about women dying at the hands of someone who is supposed to love them. Women being abused, being controlled, going into hiding, having to escape for our lives. We are feeding this monster. Taking this lightly has gotten us nowhere. In addition to crisis management we need genuine preventative work.
Our nation needs help. Our young women need the tools to be able to spot the warning signs. Our young men need education. And we collectively need to fight against misogyny. For the women who make it out, it's on us to escape, to find a way to live after this, to reintegrate into society and to find a way to heal and trust the world again. We need community. We need support.
Some of us have been murdered, some of us are not safe to tell our stories. Not everyone has this opportunity I have been granted. The basic human right that has become a privilege — to escape and live after abuse. I want the world to see this takes us by surprise. Leaving is so difficult and so very dangerous, and this could be anyone.
It just so happened to be me.
Project DVORA Domestic Violence Services offers advocacy-based counseling, resilience-building groups and gender-based violence prevention education.