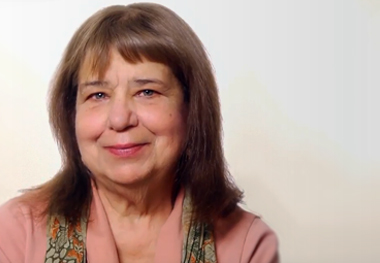 Would there be a minyan? That was the worrisome question I didn't say out loud.
Gloria was in her late 60s, raspy-voiced, recently moved to a subsidized Lynnwood apartment that fronted I-5. She had endured a traumatic period of homelessness, living between shelters and her car while trying to manage a host of chronic conditions. And now her medical regimen included three days a week, four hours at a sitting, having her blood mechanically cleansed, dialysis doing the hard work her failing kidneys no longer could.
I met Gloria by phone in early 2016. I called to hear her story, to see if she'd be comfortable sharing it — on camera — for the Community of Caring Luncheon video. When she asked me if I knew anything about dialysis, I told her about my dad. He was a few months into dialysis himself and was having a hard time. That's when Gloria flipped the script.
How's it going for him? Yes, it's grueling and depression can be part of it. Sometimes it's so excruciating, I ask them to stop. You have to advocate for yourself there. You know, it took me some months to get my feet under me, but I'm optimistic now. Is your father open to help? I'd be happy to talk to him, you know, as someone who's in this, just like him. That can be useful, if he'd be open to it.
She was an only child, her parents long gone. A navy brat, she had been all over the world. There was an ex-husband in the distant past. There didn't seem to be any intimates in the picture now. But Gloria — at one time a caterer but more often a therapist and social worker – wasn't going to feel sorry for herself. She was going to try and help where she could. And why wouldn't she? Her chosen careers had been variations on a theme: life in the helping professions.
She told me about the driver who took her to and from the dialysis center — a refugee. He was educated, dispirited in a job not commensurate with his experience, missing that part of his past. He helped her get to life-sustaining treatments, while she, from the backseat, instinctively offered therapy. She told me she talked to him by phone on dialysis days-off, trying to help him through his struggles.
We went through the up-close-and-very-personal video process, where under bright lights, she offered up her life's painful moments, letting us set them in relief against a neutral background. If it would help, she wanted to do it. She came to the Luncheon and sat with people who now knew her in ways she would never know them.
After that we'd talk on the phone from time to time. She wanted to find a way to work again. She wanted to contribute. She wasn't done participating, and she wasn't done giving. Carol Prigge, her care manager, worked with her to think through options that made sense given her frail condition and the transportation barriers.
Along the way, Gloria told me about a Unitarian church she was visiting. She was Jewish but hadn't really found a Jewish connection that fit. She was a little sheepish about this in the way you might be if you found yourself most at home in in a different tradition late in life. But she liked the open thinking and the people she encountered. She got involved with the food pantry there. She talked about organizing church people to help refugees.
I called in the early days of fall to wish her a sweet new year. Even though I thought I was checking on her, she checked on me. How was my dad doing? Were his spirits improved? Was there anything she could do for him? Was there anything she could do for me?
She told me about the Chabad that was now in the picture for her. Gloria seemed more surprised by this unexpected Jewish connection – bemused even – than she was by her church community. But she really liked the Chabad women and described warm, meaningful new friendships.
She left a voicemail the Wednesday before Thanksgiving. She said she wanted to talk to me about something, please call back. I had, what I thought were, so many pressing things to take care of before I got on a red-eye that night for the holiday weekend. I wrote myself a sticky note to call her when I returned.
My grandmother used to say, "It's later than you think," and that's always true.
Back at JFS after the holiday, I wandered by the care giving team while they were gathered in close conversation. Had Emergency Services Director Carol Mullin reached me with the news? Carol had gotten the call because she was an emergency contact. Gloria had missed dialysis. It wasn't like her. They had found her at home. She had died of natural causes.
This wasn't the first time Carol Mullin had made funeral arrangements for someone in our community. And it wasn't the first time Carol had gotten to know someone over many years, someone who had needed to turn to JFS more than once, someone who didn't have a network of family and friends to be the backstop when things got hard.
The Chabad rabbi — Gloria's rabbi — would lead. Carol Mullin would speak. Aging in Place Director Adam Halpern would be a pallbearer, and Carol Prigge would take time from her day off to be there. Even with the four of us from JFS, this wasn't going to be a minyan by anybody's count.
The December afternoon was that threatening gray where daylight doesn't have a fighting chance against dusk. It was dreary. I was dreading this. But I drove up to find the parking lot had a surprising number of cars. Inside, the chapel was nearly full.
Gloria's people were all there. They had come from the Lynnwood church. They had come from the Snohomish Chabad. They had even come from the past. Some of the remembrances were decades old, others were conversations from just last week. But they were strikingly similar. Taken together, they told a single story.
This was a kind person who had wanted to help. This was a thoughtful person who had wanted to know how you were. This was a generous person who had wanted to give.
This was a person whose memory would be a blessing.
By Deb Frockt
Deb Frockt is Director of Marketing & Communications. She enjoys baking, beaching and learning about golf, both kinds of football, fashion and pop music from her husband and sons.